A New Day Dawning | Good Morning, My Love!
Getting each and every day off to a good start is incredibly important. Letting the girl or the boy of your dreams know that you are already thinking of her or him early in the day will make them feel special.
Sending them a quick message is a simple but loving gesture that will fill them waking moments with happiness as they begin the new day. Finding just the right sentiment can be challenging, but we have put together the following collection of messages to help you. Whether you want to send a message that is sweet, inspiring, or funny, you will find it here.

Table of Contents
Sweet Good Morning Messages for your Love
Your morning kisses are life. You shine your light into my day.
Time to wake up, skip the makeup. You're beautiful just the way you are, Babe.
Woman, your good morning kisses are tasty and delicious. They fill me with the joy of life and make me feel ambitious.
To the precious girl who brightens my heart, I wish you a wonderful day.
Sending butterfly kisses and good morning wishes.
Girl, when you open your eyes, it's no surprise how my heart jumps. I get goosebumps.
Good morning, my love. Being wrapped in your arms all night makes me want to be your teddy bear forever.
As I broke each egg for breakfast, it reminded me of how my heart feels when I have to start the day without you.
I hope your day is as warm and nice as you make me feel.
Precious girl, it's time to rise. Today I'm giving you a surprise!
Before I have my coffee, I need to drink you in.
Because of you, darling, every song on my playlist is about love.
Sleep is holding you tightly, but I need for it to let go so that I can start the day with you.
I just want to lie here and hold you in my thoughts a little longer.
My cheeks are happiest when you kiss them good morning.
The secret to a good day is starting it with you, beautiful woman.
Hello there, kitten. I'm smitten. Have a great day.
Darling, your brilliance outshines the sun.
I look forward to later when I can feel your hand in mine instead of this phone. But I'm glad I'm able to text you good morning, beautiful princess.
Good Morning, My Love
Darling, you are the sunshine in my soul and the spring in my step. I hope your day is amazing.
Girl, you are radiant like the sun with a voice more beautiful than any songbird. Hearing from you gets my day off to a great start.
Throughout the day, every good thing reminds me of you. You keep me going.
My lady, to breathe is to love you. May your day be full of life.
Thank you for always getting my day off to a good start, my love.
Girl, as surely as the sun rises, I will love you.
Every day is a fresh start, and thoughts of you fill my heart. Have a beautiful day, precious girl.
Our bed is an oyster, and you are a beautiful pearl.
Girl, I love you every second of every day, but I especially love you in the morning when I first see your beautiful smile.
Every single morning, I am blessed by your presence in my life. I love you, sweet girl.
In the book that holds the story of our lives, today's page is going to be especially good because we get to spend the day together. Let's make it an adventure.
On this cold winter day, thinking of your face warms me. I hope this message warms you, and that you have a great day.
Good morning to the woman who motivates me to be a better husband/boyfriend than I was the day before.
With coffee in hand, let's get this day planned.
May your day be as special as you. You're the only woman who will ever make my day complete.
I had amazing dreams of you all night, but nothing compares to seeing the real you by my side. Good morning to the woman who makes my dreams come true.
Precious angel, heaven is a little dimmer and my life is a lot brighter since you came down to be with me. I love starting the morning with you.
Cute Good Morning Texts
Girl, waking up next to you is sweeter than the jelly in my doughnut and the sugar in my coffee.
To begin each day with you, gorgeous woman, is one of the highlights of life. Coming home to you isn't bad either.
Your radiance infuses me with energy each morning. Or maybe it's flowers. No, definitely your radiance. (I'll stick with both to be sure.)
Good morning, girl! Hit me with that inspirational smile!
Woman, your morning kiss jump starts my heart.
I love how your smile perfectly compliments my pajamas.
Girl, your morning smile is like a neon sign flashing, "It's going to be a great day!"
Wakey, wakey, my legs are shaky! Don't make my heart get sad and breaky!
Rise and shine, the day is fine, and all your kisses are gonna be mine!
Hey, girl! I'm missing you a latte this morning.
This morning, while I was singing in the shower, I was thinking about how your beauty is like a lovely flower.
It's time to stop yawning because a new day is dawning.
Hey, sleepyhead! Can I be your cuddle bud?
Wake up, my steamy little cappuccino.
Girl, you are the other half of the sexiest couple alive. Let's get this day going!
Woman, you're a hot mess in a gorgeous dress, and I can't wait to see you tonight.
Good morning to the girl who makes my heart sizzle like bacon frying in the pan.
Cute Good Morning Memes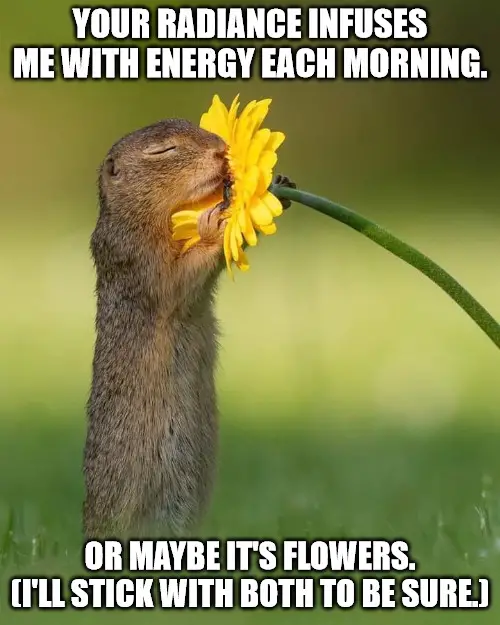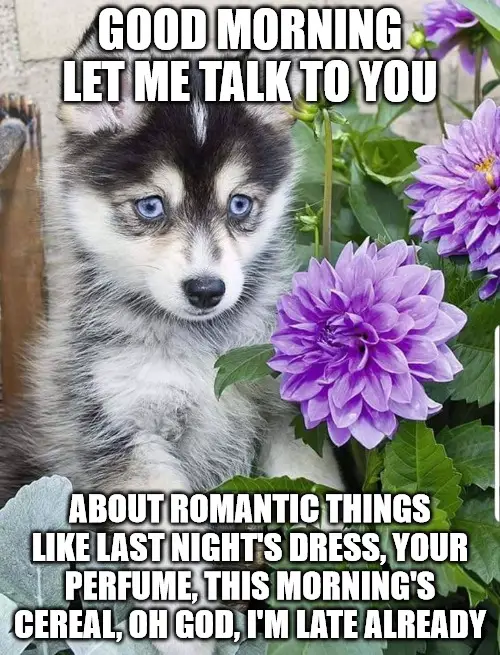 Related: Happy Birthday in Heaven, Mom | Wishes and Poems
You may also like:
Your Eyes Are My Wake-Up Call | Good Morning, Beautiful!
Good Morning, Handsome! | All Sorts of Morning Messages for Him
Amazing Good Morning Pics That Will Make Your Day