40 Great Birthday Messages for Coworkers
In need of a cool wish to send to a coworker of yours who is celebrating his/her birthday? Then great! We have an abundance of that simple or funny birthday messages for coworkers here for you to share.
Whether you're looking for a birthday message for a work colleague or for a wonderful person and friend you happen to work with, use any of the following sweet wishes to brighten and make your colleague's day a more exciting one.

Table of Contents
Happy Birthday to a Coworker
Your life is a precious gift to this world. Hope you never forget that. Happy birthday.
Where human beings may fail to show appreciation, life itself loves you. Happy birthday.
What a beautiful experience having you as a colleague is. Have a wonderful birthday!
Buddy, no matter where life takes you, know that you have my full love and support. Happy birthday.
My birthday wish for you is that you wake up with the same zest for life every morning as you did when you were but a child, unaware of the anxieties of the world. Happy birthday.
The day you were born was like the discovery of raw gold, that with each passing year becomes more refined and precious. Thank you for being such an amazing colleague and inspiration of mine. Happy birthday.
May life always show you the same love and compassion that you have always showed others.
May you experience all of the sweetness and fatness of life – with none of the weight gain.
Working in the same office with you an amazing person like you has been like riding a carousel made of candy and cake. Happy birthday!
Happy birthday! May every moment of your outstanding life be accompanied by great blessings from above.
This special day is a time for you to reflect on your life, and for us to reflect on how blessed we are to have you in ours.
May life bring you a new reason to rejoice each and every day. Happy birthday.
You are a warm heart in a cold world. Happy birthday, and thank you for being a true friend.
I wish you the most joyous birthday in the history of celebrations because you are one of the most wonderful persons I've ever worked with. May the gift of true happiness be yours forever.
Happy birthday! You, my dearest colleague, are the star of this office. Remember to never stop shining.
Today, we celebrate the life of one of the most extraordinary people in this company. I'm so blessed to share an office with you.
As the sun rises to bless the earth daily with its light, may the light of God also shine on your life and embrace you every single day of it.
Your age is more of a blessing to us than it is to you, because when you go it will be to a better place, but when you leave all of our lives will become worse. Happy birthday.
Your life is like a book that gets better with each new chapter. Happy birthday.
You are too great to expect to receive a birthday wish from every life you have touched, but as for me, know that you have a true admirer that will always love and celebrate your life. Happy birthday.
As the earth revolves around the sun, may angels also revolve around your life and light the path of your steps for years to come. Have a fantastic birthday, dearest.
May your dreams reflect the wildest ambitions of your heart and may reality reflect your dreams. Happy birthday, dear.
Age is not determined by our physical years but by the disposition of our souls, and in that regard, you are the youngest person that I know. Happy birthday.
On your birthday, I just want to let you know it's a great pleasure working with a truly inspirational figure like you. Thanks for all the incredible support you give me. Have a very happy birthday!
Funny Birthday Wishes for a Coworker
No matter how old you get and how many children you beget, you will always be my baby. Happy birthday, dear colleague.
Happy birthday to the one colleague whose birthday cake won't lure me into unnecessary birthday wishing.
Today, may your stomach grow fat with cake, your heart light with booze and your eyes teary with visions of the glorious future that awaits you. Happy birthday.
My wish for your future is that all of your stresses become celebrations and all of your sorrows become joy. Happy birthday.
You are like a piece of candy unearthed by archaeologists that has the amazing ability to retain its original sweetness throughout the years. Happy birthday, and may we all be blessed to age as gracefully as you, you wonderful dinosaur!
When I started working here, I thought was overpaid and under-qualified. Meeting you made me stop doubting about myself, and I thank you for that!
Every company has its milestones, and perhaps your retirement will be the first for this one. Many happy returns!
I know that I'm the greatest colleague to have in the world, but you're also the greatest person to be colleagues with on lunch breaks.
In your own words "Very phew peopol have the talent to right in away that really effects others", so thank you for not being our secretary. Happy bday!
Happy Birthday to a Colleague and Friend
Happy birthday, my dear friend and colleague. May the world be blessed with many more years of your presence.
You love spreads over our lives like frosting over a piece of cake. Happy birthday to the sweetest friend and workmate I have ever had.
The day I randomly met you was like winning life's lottery prize of joy and friendship. Happy birthday to the most awesome colleague ever. Thank you for being a blessing to me and everyone at the workplace.
On the day you were born, fate sent me an inseparable friend, and as such, this occasion is more of a reason for me to celebrate than anyone else, perhaps even yourself. Happy birthday.
May people learn to appreciate and celebrate you for the incomparable person that you are every day and not just on special occasions like this. Happy birthday, my amazing friend and coworker.
Birthday Wishes for Coworker on Images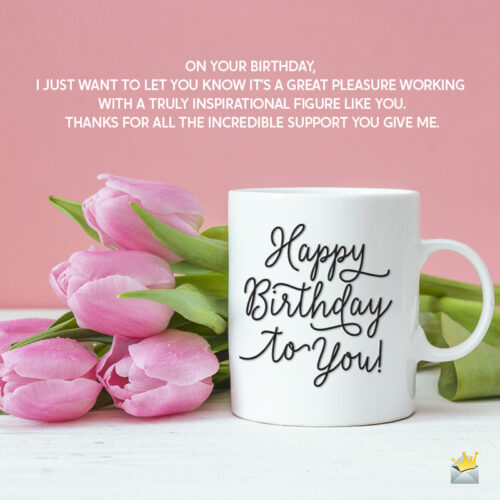 You may also like:
Professional Birthday Wishes for Employers and Employees
Best 34 Professional Birthday Wishes for Business Clients
Birthday Wishes for People of Various Professions
Formal Birthday Wishes for Professional and Social Occasions