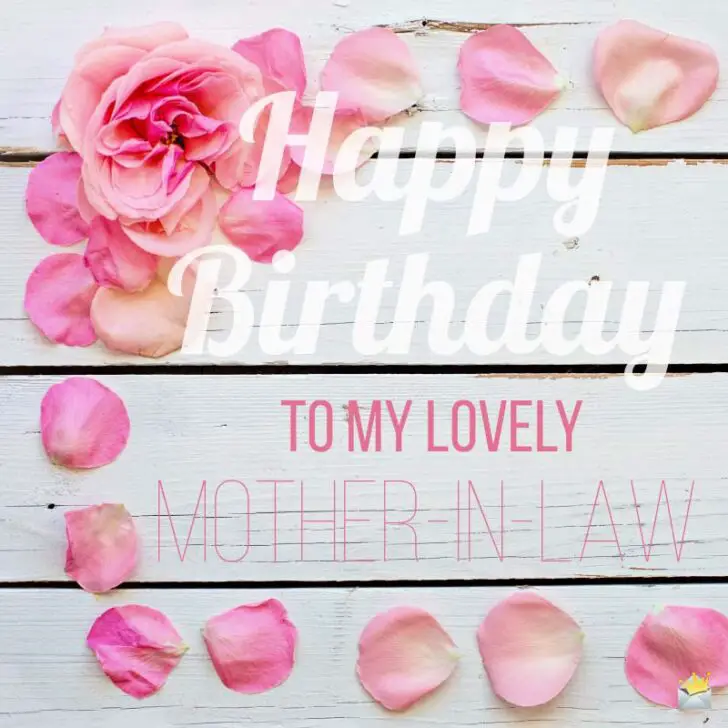 For some, the relationship with the mom-in-law is very strict; for others, easy-going; and still for some others, somewhere in between. Irrespective of the nature of the relationship, we think that just like our real mothers, our mothers-in-law also deserve beautiful and warm words on their anniversaries.
With these apposite phrases and words below, you can convey beautiful wishes to your mother-in-law on her birthday. You may use them on cards, cakes, at parties, social media, etc. — you name it!

Funny Birthday Wishes for your Mother-in-Law

Having lots of coconut water won't kill you but drinking lots of beer probably will. Anyways, you can have a mug or two on this special day. Happy birthday!
Wishing my sweet mother-in-law a happy anniversary. May God bless you for not being a dreadful in-law to me.
May you find the energy and patience to put up with our peccadilloes; we are quite the noisy bunch. Enjoy this day to the fullest. Happy birthday.
I pray that your house will never lack wine so that we can stay hydrated through our late night chats. Have a blast!
Wishing you a big, hearty, and happy birthday. May the trumpets and drums never stop beating for you. Happy birthday.
In case you need help with eating the cakes, I can offer my services free of charge. Have a joyous birthday.
The dogs took a break from being naughty because they realized today is your birthday. Can everyday be your birthday? Love you!
Everything is so sweet today; oh I guess it's your birthday. Keep on infecting us with your sweetness, we just won't mind. Cheers!
Now I just can't be sure of your age anymore; you keep defying the order of aging. Is there a secret concoction for this? If there is, I hope you don't mind sharing it with me. Happy birthday.
Age is only a number; it's what's in the mind that counts. On this day, may your mind be filled with swag like the sweet 16s.
I think you are a partner in crime under the guise of a mother-in-law. Long may our partnership endure. Enjoy your day.
If your son/daughter were a machine, I'd say that you gave me the manual for making it work. Thanks for all the advice and support you have given me. Happy birthday.
Your grandchildren are baking your special cake today. They have a lot of tools in their arsenal to spoil you today. Better get ready. Happy birthday.
On this day of your birth, I pray that you'll age with grace and the swag of a teenager! Let's face it; no one has those more than you do!
Beautiful "Happy Birthday, Mother-in-Law" Wishes

When I'm with you, I've nothing to hide. Thanks for creating a welcoming environment for me. God bless you on this day!
God has so many things in store for you. On this day, I pray that He will bless you with them in his time. Enjoy your day to the max.
Every day I feel honored and blessed by the opportunity given to me to be the daughter/son-in-law of such an amazing woman like you. Happy birthday, my dearest mother-in-law.
It may have been all you had but you gave your all to your son/daughter and me without asking questions. Thank you for being our pillar of support. Savor every bit of the joy that comes your way today.
Sometimes, I think that you love me more than you do your son/daughter. You've been more than a real mother to me. I'm thankful for your life on this day! Happy birthday.
I've had my share of life's ups and downs, but with you around, the downs seem few and very surmountable. I can't thank you enough for your advice, kindness, love and care. I hope your anniversary is as colorful as you have made our world.
If there's a memory I have of you, it's that you have a heart of gold! Never would I be able to repay you for your constant unflinching generosity and love you shower on me. Happy birthday.
Today, I raise a glass in your honor. Thank you a million times for making this world a better place for me. Happy birthday.
He who finds a good mother-in-law finds a good thing. I'm so glad that I found the best mother-in-law in the whole wide world. You are simply awesome. Enjoy this day to the fullest.
I like to call you my mother's twin because the two of you are alike in mannerisms and temperament. Thank you for being you. Happy birthday.
Cars, ships, jets, and real estate are things I can always give to you. However, they can never be enough to requite your kindness towards me. Have a blessed day!
To the rest of the world, you are a mere mother-in-law, but deep down in my heart, you are a rock of support during life's turbulent storms. Enjoy this day to the max!
When I married your son/daughter, I never knew that it would start an amazing relationship with an intelligent woman like you. Thanks for broadening my understanding of marriage. Happy birthday.
I think that when God instituted marriage, he meant to give the motherless a chance to receive motherly love. I'll say that you've done a terrific job so far. Happy birthday.
Your words are music to my ears; and your smile, peace to my mind. Thank you for showing me the ropes of marriage. You are truly one of a kind. Happy birthday!
Thank you for teaching my husband/wife how to love like a real man/woman. Very few men/women are fortunate to have good teachers like you. Enjoy this day to the fullest.
Inspirational Birthday Wishes for your Mother-in-Law
May you sour on the wings of eagles, and never stop shinning your bright inner light, which lights our paths every day. Happy birthday.
Happy birthday, ma! I know you will always stand by us and push us to be our best.
Although this finds you in difficult times, I know that you will pull through like you've always been doing. Love you.
Never stop being an amazing wife to my dad-in-law, and an awesome grandma to my kids. Continue to keep us in check. You're nothing short of phenomenal. Cheers.
They say it takes two to tango, but you've shown us many times over that success is a mindset. Don't stop thinking big and believing in yourself. We love you.
You keep reminding us that the fullness of life is not in one's years, but in how well those years are spent. May you continue to live your inspirational life to the fullest. Thank you for inspiring us. Happy birthday.
You've always represented God to us. On this big day, I pray that the Almighty will continue to empower us through you. Have a blessed birthday.
Birthday Prayers for your Mother-in-Law
I pray that you stay on this earth long enough and with good health to see your great grand children; they just will love your jovial spirit. Happy birthday to you, ma!
I'll always say a prayer for you when I say one for myself because you mean a lot to me. On this day, I pray that everything good in this world will always come knocking on your door. Happy birthday.
We can't repay you for all the prayers you've said for us. On this day, we pray for divine direction and bliss in your life. Have a blessed and truly happy existence on this mortal journey you are on.
May this day serve as the beginning of greater, happier and more prosperous years to come. Happy birthday.
I pray for the mighty spirit of God to lead you every step of this new phase of your life so that you may always know and feel what true happiness is. Stay blessed, and do have a wonderful anniversary.
You may also like:
Love you, Dear Mom! | Birthday Wishes for your Mother
250 Funny Birthday Wishes that Will Make Them Smile
200+ Cute Birthday Messages to Help them Crack a Smile!