The Festive Day of Gratitude | 70+ Happy Thanksgiving Wishes
Thanksgiving is the warmest, full of heart and loving holiday of the year. Being one of the most colorful months also helps in absorbing the beauty of nature, while trees have turned orange, red, and yellow and are bare of most leaves. The colorful leaves on the ground and the musical sound of them ruffling in the air, streets and parks, is on its own a magical picture to be thankful for.
A time to remember how grateful you are for the lovely people in your life, for your friends and supporting family: it's when moms, dads, grandmothers and grandfathers are all invited to spend time together and appreciate each other. A time when two, three and even four generations are under one roof: it's when all the good in people takes charge, and they are guided voluntarily to visit nursing homes and hospitals to spend their time spreading the joy of being thankful.
Truth of the matter is, with all the preparations, from roasting a turkey, tasting the cranberry sauce and gravy, mashing the potatoes to simply taking in the festive atmosphere and decorations everywhere around you, in stores, in malls, in the streets and in the office, it is guaranteed you will be a part of this feeling of contentment.
We all need a reminder from time to time to recognize the good in life and count our blessings. For many, it is on this annual special day to make it a point to take notice of things that the people around you have done and continue to do for you. It is on this Thanksgiving Day you want to say thank you.
Table of Contents
Happy Thanksgiving Wishes for Colleagues
Express your thanks to those people you work with and actually spend a tremendous amount of time with. It is those people you solve problems with at work, meet deadlines, share ideas and a huge part of your life. They are your colleagues. A simple warm yet professional thank you is always welcomed and appreciated.
You've been quite an inspiration for my career. I admire your dedication and hard work. Thank you.
You always have my back and have taught me to be a good team player. Happy Thanksgiving to you and your family.
I'm grateful for working with you. I've learned so much working with you. I hope you spend this Thanksgiving exactly as you wish to.
Your kindness and professionalism is admirable. Having colleagues like you makes me thankful every day.
On this Thanksgiving Day, I just wanted to say thank you for everything. I'm very lucky to have a colleague like you.
Working with you has taught me to be a better professional. You're the best colleague anyone can ask for.
Thank you for being a supportive colleague. You are greatly appreciated. Have an amazing Thanksgiving.
Warm Happy Thanksgiving Wishes for All
Express your gratefulness and feelings to all your friends, acquaintances, family and more. Tell them how thankful you are for everything they have done for you. When you show your appreciation, you give joy and recognition to those who are a positive aspect of your life.
Thank you for always being there for me. I wish you a Happy Thanksgiving.
I thank you for all your support and inspiration. Have a great Thanksgiving Day.
You have been a dear and kind friend. I just want to say thank you.
Through thick and thin, you've been there. Thank you!
May your Thanksgiving dinner give you enough energy to go out and face the world like a superhero! Wishing you a splendid Thanksgiving!
You are the greatest joy in my life. Have a great Thanksgiving.
When I fall, you're there to catch me. Thank you for always being there and enjoy this Thanksgiving as much as you can.
Thank you for being the most important part of my life. Rainy days are always brighter with you by my side.
I don't tell you enough, but I am very grateful you are in my life. Thank you.
I wouldn't have done it without you. Thank you for your guidance and a Happy Thanksgiving.
Funny "Happy Thanksgiving" Wishes!
Because any festive moment can turn out to be hilarious.
Hope you're not cooking this year. I'll bring the pizza pie, just in case.
Yes, you will have to thank me again this year. Happy Thanksgiving.
May love smother you this holiday like gravy covers mashed potatoes.
Oh no, family time again. I mean, happy Thanksgiving, mom and dad!
Anyone who lets me pig out, watch football and then fall asleep on their couch is what I call a real friend.
After the last thanksgiving, I can only hope we skip it this year.
May the only bitterness you experience this Thanksgiving holiday be the taste of sweet, sweet booze. Happy holidays!
Gobble Gobble Gobble… stuffing our faces again this year? Have a diet-less Thanksgiving.
It's too late, you already accepted the invitation. It could be worse: you could be a turkey! Have a great thanksgiving.
Happy Thanksgiving Messages to Friends
Thanksgiving Day is dedicated to bringing to mind all the reasons you want to give thanks. This can be in the comfort of your own home relaxing, out enjoying a stroll, out laughing in the company of friends or by enjoying a lovely meal with family who has gathered to have fun and be part of a traditional thanksgiving feast.
Our Thanksgiving together is going to be so joyous that you're going to think we're living in a sitcom!
May this Thanksgiving Day be filled with the same type of love that has forged an inseparable bond between us. Happy holidays.
I love you, my friend, on a daily basis, but this is the time of year that I actually get to cook for you and officially show you how I feel.
May your home be filled with the fragrant aromas of stuff turkey, fresh-baked pie and sweet intoxicants.
There is no day of the year sweeter than Thanksgiving Day, and once you see the dinner and desserts I have prepared, you will know exactly why. Happy Thanksgiving Day, my dear!
This year, I am preparing the favorite dish of each one of y'all so that everyone will have a reason to come over.
The only thing that is going to be sweeter than our Thanksgiving dinner is the laughter and stories we share on this special day. Happy holidays.
This lovely fourth Thursday of November, I wish you nothing but unlimited joy. Happy holidays, lovely friend!
I have just received the recipe for the perfect Thanksgiving, and the main ingredients are me, you and all of our close friends.
Buddy, I wish you a Thanksgiving in which you gain 10 pounds of happy, non-regrettable weight.
May you have a Thanksgiving that makes your heart smile as well as your stomach!
This Thanksgiving, may the love to eat come second to the love of the companions present at the dinner table. Happy holidays, buddy.
These are the times we cherish the most – festive spirits, prayers of thankfulness and the wonderful conversation of family and friends.
May your Thanksgiving include all of the flavors necessary to make it one that you will remember for a lifetime.
This day is just as much about playing Mario Kart with you as it is cutting turkey after a communal grace. Happy Thanksgiving. Can't wait to see you soon!
Buddy, you are so sweet that if I didn't love you so much I'd throw you right in the oven with the turkey.
My sincerest wish this Thanksgiving is that you come to appreciate a friend like me just as much as I appreciate you. May your Thanksgiving Day be filled with pure love and laughter.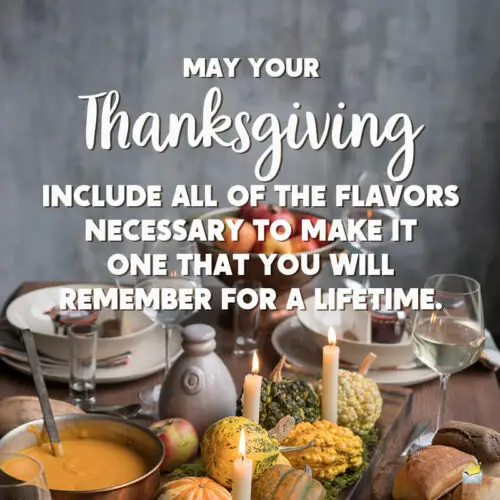 I know that wherever you may celebrate this Thanksgiving, it is going to be a lovely dinner in the presence of people who appreciate your company. Happy Thanksgiving, my beloved friend.
May you have a Thanksgiving with the mature appreciation of adults yet the sophistication of a 10-year old.
Nothing smells sweeter than the baked carcass of a holiday turkey.
This holiday, may we all embrace the type of emotions and merriment that has made us best friends to begin with.
Today, we celebrate a turkey who gave his life for our friendship.
May your Thanksgiving table be filled with natural delicacies from the old world as well as the fattening treats of the new.
May our mouths dance to the delicious tune of roasted turkey while simultaneously composing sweet oratories of the juicy stories from this past year.
Wishing your palate be satisfied with all of the different tastes that have made this holiday so special.
Whether at home or on an excursion, I hope this Thanksgiving proves to be an exciting, memorable one for you.
May your Thanksgiving be so special that the only words that come out of your mouth are those of gratitude and appreciation. Have a fantastic Thanksgiving Day.
From the bottom of my heart, I'm hoping this Thanksgiving will be even happier than you anticipate. Have yourself a happy holiday and a wonderful dinner with your family!
May this Thanksgiving provide you the kind of pride that can only be instilled by knowing you have precious loved ones. Happy holidays, dear friend.
May we all experience a Thanksgiving where we can eat to our heart's content yet wake up the next day with no regrets at all. Happy holidays!
May this Thanksgiving serve as an opportunity for our entire families to get together and appreciate how blessed we are for having people who love us.
Happy Thanksgiving! May you have a Thanksgiving in which the quality of the people around you is more important than the quality of the food.
May your Thanksgiving dinner be so engaging that none of the participants will even look down at their phones. Happy holidays.
This year's Thanksgiving dinner will be marked by a small gathering of friends, but the love in the room is going to be huge!
School sucks, and jobs are terrible, but being able to spend a lovely holiday with a wonderful friend like you seems to make it all worth it.
This is my favorite time of year, when I know that people like you are also partaking of the holiday spirit.
May this be a Thanksgiving that is not only pleasing to the tongue but also to the heart and soul.
It's my sincerest hope that you have the type of Thanksgiving where your breath smells like turkey for an entire week after. Happy holidays.
May your Thanksgiving be full of all of the traditional delights – family, friends, great food – that we have come to expect from this holiday.
Happy Thanksgiving! From one special friend to another, may happiness and love be with you today and forever.
You may also like:
92 Original and Appreciative Happy Thanksgiving Quotes for your Family
A Grateful Employee | Happy Thanksgiving Messages for your Boss
For Someone Who Taught Me a Lot | 31 Thanksgiving Quotes for Teachers