Happy to Have You in my Life | Thanksgiving Wishes for My Parents
Thanksgiving is arguably the most family-oriented of all holiday, which of course means giving thanks for our parents.
Whether you are at home or away, we have provided some nice Thanksgiving wishes you can use to make your parents' festival of plenty even more memorable.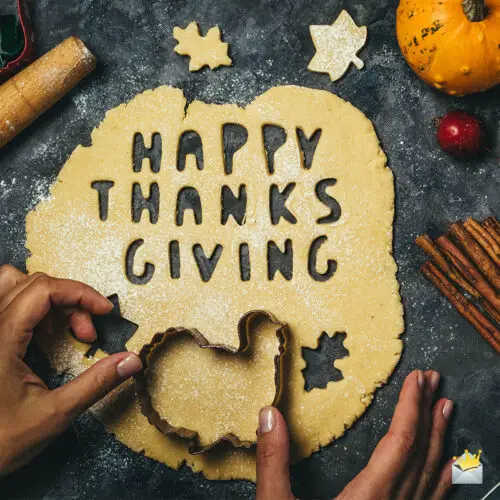 ---
I sincerely wish I could be there with you, but I am happy that you will still enjoy a wonderful Thanksgiving with the rest of the family.
Thanksgiving is the holiday I look forward to seeing you, guys, the most, and I know this year will be an extra-special one. Happy Thanksgiving, Mom and Dad.
The thing I am most thankful for on this special occasion is having you as parents. I love you so much, guys.
This year, I decided to go all-out with a Thanksgiving party to publicly express how grateful I am for the most wonderful parents in the world.
I wish my parents a Thanksgiving where family scramble about like turkeys and the entire home is stuffed with cheer!
I remember many a wonderful dinner where the main ingredient was your love, but none of them even come close to those made on Thanksgivings. Can't wait to see you!
As turkey goes with cranberry sauce, so do my father and mother make the perfect combination. Happy Thanksgiving!
The only thing that is going to trump this Thanksgiving is the Christmas I have planned for you. Happy holidays!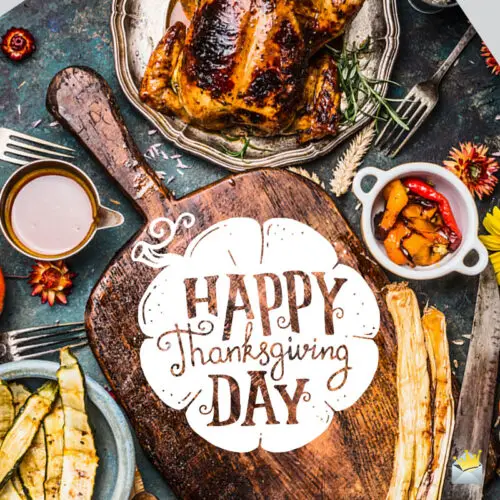 ---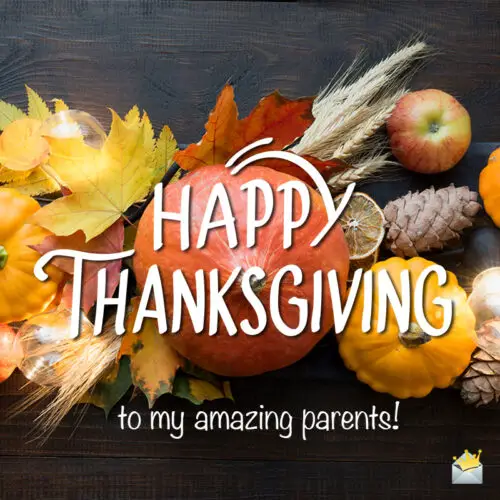 ---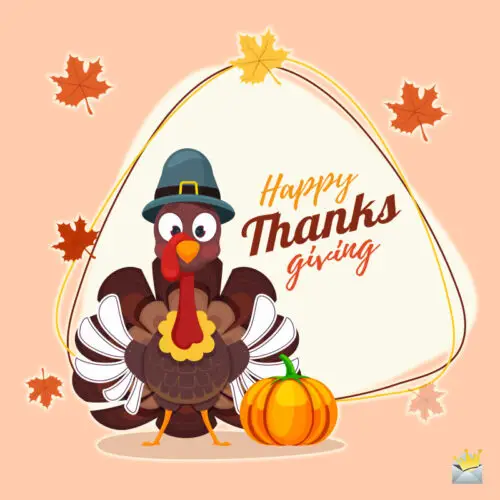 Anyone who is spending this holiday devoid of a spirit of gratitude doesn't have parents like you. Happy Thanksgiving, my beloved parents.
The greatest thing about the month of November is spending a plate-licking Thanksgiving with my wonderful parents.
I hope that this Thanksgiving my parents will cast all fears of obesity aside and come out of the holiday stuffed like turkeys.
Just as the pilgrims sat around and gave thanks for the providence of the Native Americans, this year, we give thanks for the loving care of our parents.
A turkey died this year so that our holiday cheer could live. Happy Thanksgiving!
Even if this year we only had leaves to feed on, the love you share would make us all satisfied and thankful. Happy Thanksgiving.
Dearest parents, I wish you a Thanksgiving where you receive the honor that you deserve for being wonderful parents.
I am going to show my gratefulness for you this Thanksgiving by appreciating as much of the food you have prepared as I possibly can.
A Thanksgiving dinner without you is nothing to be thankful for, so I will be sure to stop by during this holiday. Happy Thanksgiving!
It is my pleasure, indeed my obligation, to come by and ransack your refrigerator and cabinets this holiday. Happy Thanksgiving Day!
I want to take this opportunity to wish a Happy Thanksgiving and express my appreciation for my lovely family, especially my wonderful parents.
I wanted to surprise you this Thanksgiving by cooking dinner myself, but I would rather you do it so that it would actually be edible. Happy holidays!
Thank you for being the best parents anyone could ask for. Thank you for the loving care you always showed my siblings and I. Thank you for cooking for the 10 last-minute friends I invited over this Thanksgiving.
When this Thanksgiving turkey reaches the gates of Saint Peter, may he give a report of how much I love and appreciate the parents God has blessed me with.
Happy Thanksgiving to the only people who love me enough to let me always stuff my face free of charge.
My parents are sweeter than potatoes, peaceful like turkeys, and their love is thicker than gravy. I'm sorry if this sounds cheesier than macaroni, but it's my way of wishing them a happy Thanksgiving.
May this Thanksgiving Day bring you the same joy as the night you guys conceived me. Have a beautiful Turkey Day!
Even though I am still burning calories from the meal you prepared last year, better believe I will be the first one seated at the Thanksgiving table this year also. Happy holidays.
I cannot wait to plant a sweet kiss on Mom, Dad and the dinner turkey this Thanksgiving Day.
I'm looking forward to spending Thanksgiving watching football with dad and soap operas with mom. You are two of the most special people in my life and spending time with you brings me paradise. Happy Thanksgiving Day!
I am going to celebrate this Thanksgiving Day by showing mom and dad the new eating skills I have acquired while out on my own.
Happy Thanksgiving to my adorable Mom and Dad. I love you so much that this year I promise to consume every single atom of food that you prepare!
My heart rejoices more than my stomach as I celebrate another delicious Thanksgiving with my lovely parents.
Even if this Thanksgiving were spent eating turkey and cheese sandwiches, it would be as special as the White House dinner so long as I am in the company of my loving and caring parents.
The answer was already revealed to what I am most thankful for when you looked in the mirror this morning. Happy Thanksgiving, Mom and Dad.
I enjoy seeing the children, the siblings, the aunt, the uncles, the cousins, but more than anyone I am looking forward to seeing you, my phenomenal parents. Happy Thanksgiving.
Happy Thanksgiving to my amazing parents. I hope dad actually helps you to cook this year! On second thought, forget that previous sentence.
If the pilgrims had parents as lovely as you, they never would have left England. Happy Thanksgiving.
I look forward to spending this Thanksgiving practicing our family traditions, such as serving the family like mom and smiling even though I may not prefer a particular dish like dad.
I would rather be beaten with a frozen turkey than miss the opportunity to wish my parents a Happy Thanksgiving.
Even though I am not able to make it over this year, my best friend and his family, in addition to myself, all wish you a joyous and appetizing Thanksgiving.
I say my prayers in private, but if there is any doubt in your mind as to what I am most grateful for it is having you – or perhaps I should say you having me. Happy Thanksgiving.
It is my honor to once again have the opportunity to extend happy Thanksgiving wishes to my beautiful mother and handsome father. I love the both of you more than I love anything in the entire universe.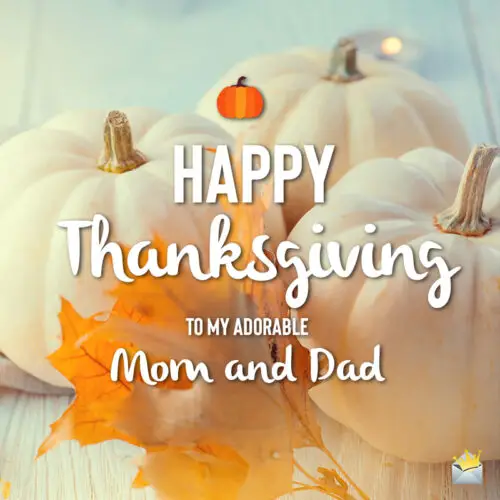 ---
You may also like:
The Festive Day of Gratitude | 70+ Happy Thanksgiving Wishes
82 Original and Appreciative Happy Thanksgiving Quotes for your Family
A Sibling To Be Thankful For | Thanksgiving Wishes for my Sister and Brother
Grateful for my Buddies | 44 Happy Thanksgiving Quotes for Friends