A Sibling To Be Thankful For | 39 Thanksgiving Wishes for my Sister and Brother
Thanksgiving is a holiday about family, especially those we are naturally close to, like our siblings.
That said, if you are looking for original, thoughtful, sweet wishes and messages to give your brother or sister this Thanksgiving, you really don't need to bother yourself anymore, for we have provided a large number of them below for your free usage.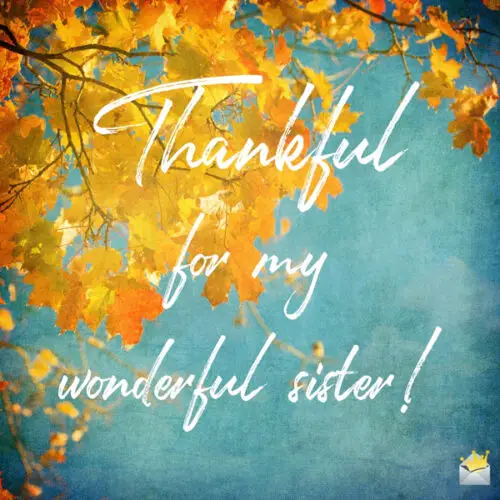 ---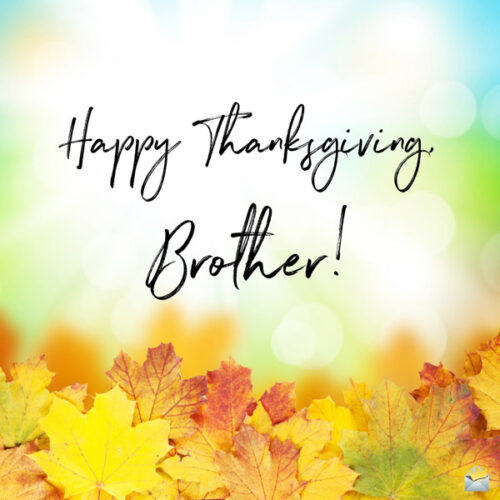 ---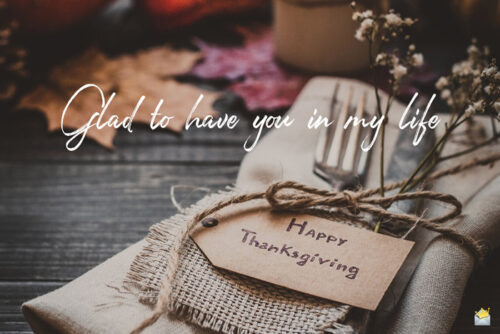 ---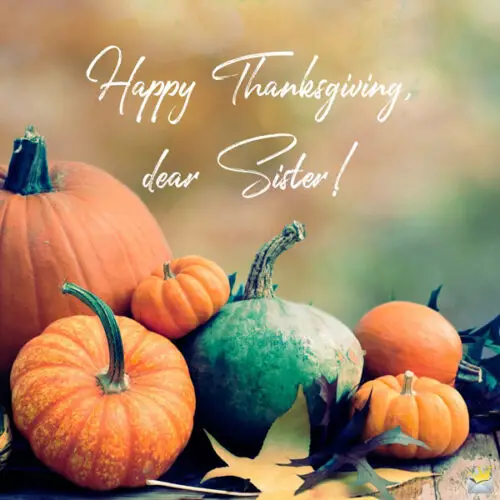 ---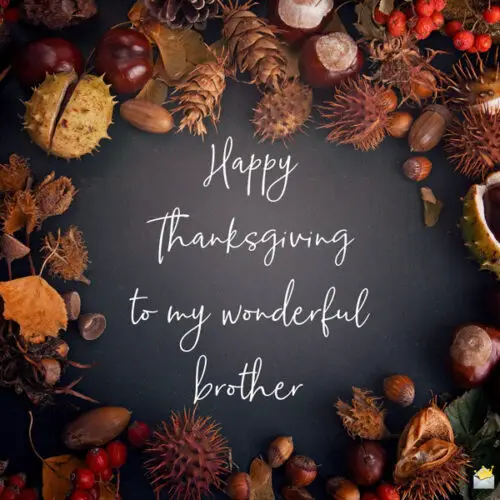 ---
Thanksgiving Wishes For my Sister
This holiday season, may your heart stay close to mine, yet your hands far away from the kitchen. Happy Thanksgiving!
Just as the Native Americans humbly welcomed the pilgrims, may you and I also be allies this Thanksgiving.
I can't believe that you have grown from being a sweet little girl to now being able to cook dinner on your own (not that I would want you to).
The continual teasing I bestow upon you is just my way of letting you know my appreciation for having you as a sister to share my life with.
I have been looking forward to this day all year, where I get to enjoy a large, delicious dinner in the entertaining company of you and the entire family. Happy Thanksgiving, my dearest sister.
Sis, it has been a long time since I have spent quality time with you, and I have no doubts in mind that this Thanksgiving is going to be the perfect opportunity for us to catch up.
May this be more than just the average Thanksgiving for us, sis. May it be one that the family can talk about for years to come. Happy holidays! Hope to see you soon!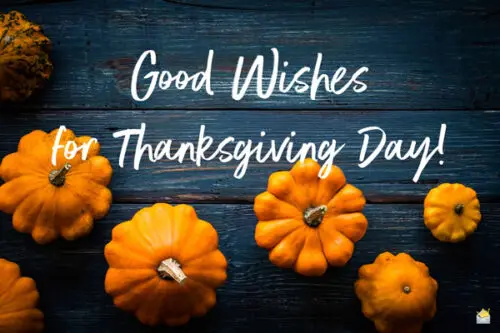 ---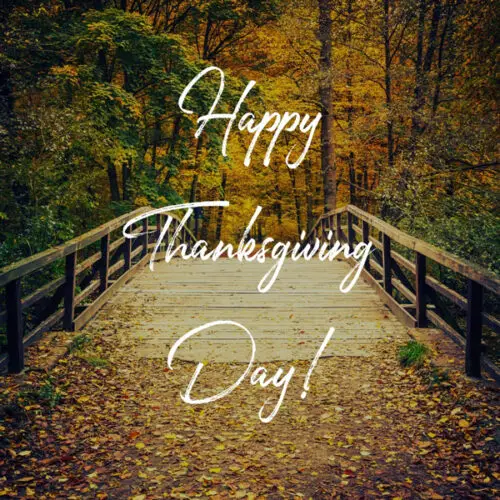 I have always been thankful for having someone as caring as you involved in my childhood, and I am even more grateful that we are getting to spend another Thanksgiving together as adults.
I wish you a magnificent Thanksgiving graced with a big dinner, grateful children and sincere salutations from loved ones both far and near.
I am appreciative to not only have you as a sister but also as a best friend who I have the advantage of being biologically connected to.
I always believed spending time away from you would be the best thing in the world, but now that we are separated, I look forward to no occasions more than the precious times I get to spend with you.
If that turkey had a sister like you, he would still be alive. Happy Thanksgiving!
Regardless of how hectic my schedule may be, there is no way in the world I am going to miss out on the opportunity to see you this Thanksgiving Day.
May this Thanksgiving be filled with the type of memories that will have our great-grandchildren still observing the holiday even long after we are gone.
You have always been the model sister, but your greatness as a mother and caregiver even surpasses those you possess as a sibling.
What I am most grateful for is having the opportunity to once again share a Thanksgiving with my sister in good health and high spirits.
Thanksgiving Wishes For My Brother
Thanksgiving is more about being with you than it is about stuffing my face with food. Happy holidays.
I could spend every day being a glutton if I so desired, but it is only during this special time of the year that I get the privilege of spending time with you.
I don't know which turkey I am looking forward to seeing the most – you or the one mother is cooking. Happy holidays, bro!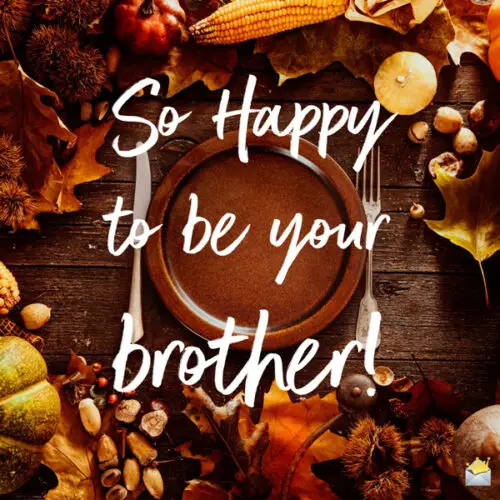 I count having you as a brother amongst the few things I'm genuinely thankful for in this life. Happy Thanksgiving Day, my dear!
Even if we don't meet this Thanksgiving, your presence will still be felt at my dinner table as I'm sure mine will be at yours also.
The Pilgrims may have celebrated this holiday in gratitude for successfully making it across the ocean, but the reason I do it is to show appreciation for having a wonderful brother like you.
As a turkey is no good without stuffing, so will this Thanksgiving be no good if you're not around. Happy holidays!
You know this wouldn't be Thanksgiving if I didn't give my big bro a shoutout! Happy holidays.
May your holiday be filled with kisses from loved ones and all the food you can eat!
This holiday won't be even half as entertaining if it's not spent with you. Happy Thanksgiving.
May you have the type of Thanksgiving that would put even our most-obese forefathers to shame. I love you so much, bro.
There is nothing more important to me than family, so you know I would never let Thanksgiving go by without wishing a happy one to my brother.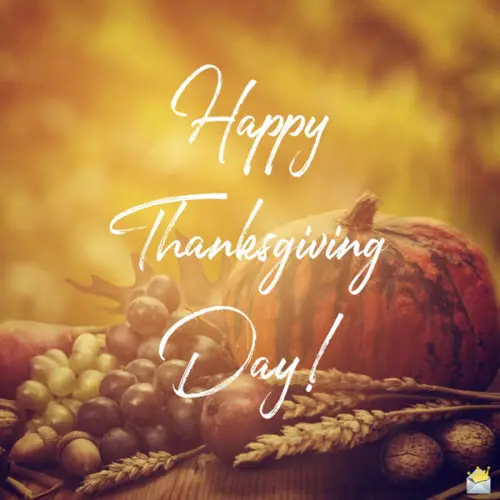 May you have a Thanksgiving where every bite you take reminds you of me.
May this holiday bring you the sweet enjoyment of the fat things in life. Happy Thanksgiving.
Even though we may not be together, may my warmth still reside inside of you, like a turkey that has been stuffed with love.
Just as Easter has the bunny, you are also the mascot of the Thanksgiving holiday in this home. Happy Thanksgiving Day, my treasured brother.
None of us is promised tomorrow, so I wanted to take this opportunity to not only express gratitude for a wonderful brother but also to say I am proud of you.
My favorite part of Thanksgiving is just watching you eat and wondering how you are getting it all down there!
May you experience a Thanksgiving so enjoyable that even the bottomless depths of your tummy are placated.
Even though certain other family members may be missing, with you, our Thanksgiving will still be complete.
I hope your children thoroughly enjoy this holiday and realize the exceptional dad that they have been blessed with.
I hope that we enjoy a Thanksgiving so bounteous that your mouth will be too preoccupied with chewing to utter even a single word. Happy holidays!
If it makes you feel any better, I learned that stuffing food down as furiously as you do on Thanksgiving increases hand/eye coordination. Happy holidays!
You may also like:
The Festive Day of Gratitude | 70+ Happy Thanksgiving Wishes
82 Original and Appreciative Happy Thanksgiving Quotes for your Family
Grateful for my Buddies | 44 Happy Thanksgiving Quotes for Friends