Never Stop Counting your Blessings | Birthday Wishes for a Foster Dad
If you are racking your brains looking for the right words to include in the birthday wish that you send to your foster dad, stop already!
Save time and effort by sending any of the following sweetly written birthday wishes to your second father on his Big Day. We have this strong feeling he'd be excited to receive a sweet message from you!

Sweet Birthday Wishes for your Foster Dad
There are a billion stars in my skies, but you are the only star that illuminates my world. Happy birthday, foster Dad.
You're the reason the sun shines in my universe. Best wishes on your special day.
Happy birthday, Dad! Your unconditional love and support make this world a beautiful paradise for me. I love you a lot!
I'm glad this universe blessed me with you. Thank you for being the best foster dad in the world.
Happy birthday, Dad. May this beautiful day usher in endless joy into your world.
Wishing a sweet birthday celebration to an absolutely sweet foster father. Dad, may your life burst with happiness all the time.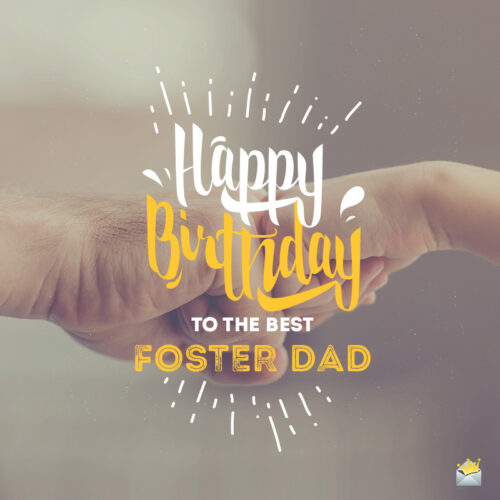 Happy birthday to my fabulously great foster Dad! Dad, may real joy find you wherever you go.
Never shall I stop celebrating you for the great happiness you bring me every day.
Wishing a very happy birthday and life to you, Dad! Because of you, this world is a gloriously beautiful planet to be in.
Happy birthday to the one and only hero in my life! Hoping you enjoy every bit of the adventure of life.
You are my angel because you not only opened your home to me but also your heart of gold. May your birthday feel your soul with heavenly bliss.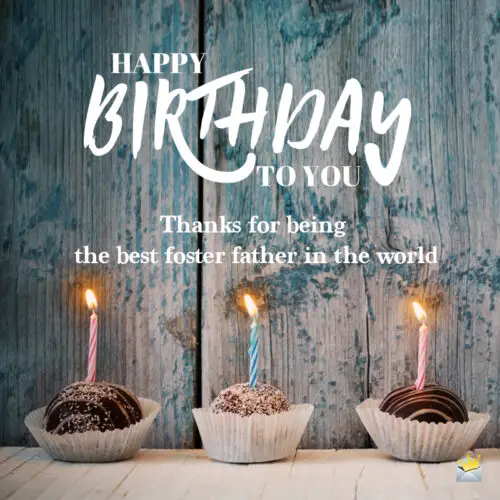 Wishing a very long, healthy and happy life to the king of my world. Dear foster Dad, have the happiest and most colorful birthday celebration ever!
You successfully raised me into a responsible adult despite all of the countless obstacles you faced. For that, my heart will always be grateful to you, Dad.
Wishing a truly delightful anniversary to a truly glorious foster dad! May this day bring you all the peace and joy life owes you. I hope you have a really magnificent day! You're the best!
No matter how brightly the sun shines, it can't brighten my world like you do. May God bless you and keep your heart happy all your days.
Dearest Dad, I have no words to express how much I treasure you.
It's a great blessing to be your foster daughter/son. Thank you for transforming my dark world into such a beautiful and bright one.
Thank you for being a loving, supportive and very caring foster Dad. May your birthday fill your life with priceless treasures of joy.
May your blessings be as plentiful as the comments on Facebook!
Happy birthday, beloved foster Dad. My love for you will last for as long as Americans continue to end their sentences with prepositions!
Wishing a super duper happy birthday to my amazing foster dad who is a thousand times cooler than Kanye West.
Today, you might have become as old as Methuselah but you are still the coolest dad on the block!
Please, don't listen to the voice of the devil that is encouraging you to count your years instead of your blessings. Never stop counting your blessings, come what may.
In the eyes of the world, you might be just an ordinary old fart. However, in my eyes, you are a phenomenal old fart.
Beloved foster Dad, promise me that today you'll focus more on counting your blessings instead of your wrinkles.
Happy birthday, Dad! Enjoy your hip-breaking days to the max!
Forget about the fact that you're officially an old man today. Just have a ton of fun!
Wow! Counting the candles on your cake is like trying to count the sands on the surface of the Sahara Desert!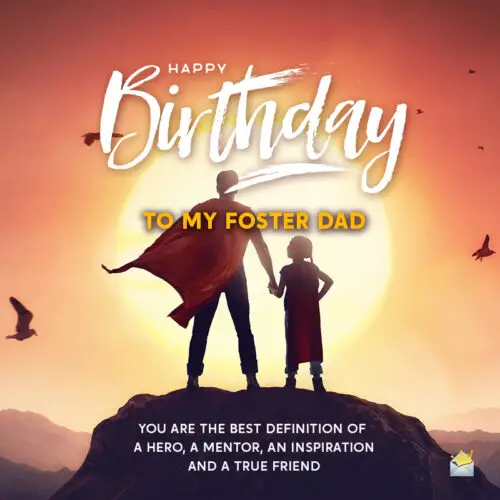 Inspirational Birthday Wishes for Foster Dad
You are the reason why my days always begin and end on good notes. Thank you, beloved Dad, and I wish you a fine and blessed birthday celebration!
Tough roads have the tendency of leading us to spectacularly beautiful destinations. Happy birthday, foster Dad.
You're never too old to enjoy life. If you believe in yourself, you can rise to spectacular heights.
Remember to be thankful to the Lord for another beautiful year of being alive. May this new age of yours bring you lots of success and joy.
I am hoping that this lovely day will pave way for great achievements and wonderful accomplishments in your life.
Happy birthday, sweet Father! My prayer for you is that God will bless you today and every other day with a billion reasons to smile, laugh and be joyful.
Happy birthday, precious Dad. Today is an absolutely perfect day to tell you how much you inspire me to be all I want to be in this life.
Keep thinking BIG and your accomplishments shall always be BIG.
May this day give you the courage and strength to push past your fears be who you've always wanted to be.
Smile and enjoy every moment of your life because you're awesome.
When life brings problems your way, always remember that you are stronger than the obstacles in your path.
Happy birthday, Father! Live your life with the knowledge that nothing in this world inspires me as much as your words do.
On your birthday, I have just two important words for you. Never quit.
Every blessed day, be grateful of the little that you have and your heart shall always know happiness.
Wishing the rainbow in my cloud a truly spectacular. Dad, thank you for being the reason I possess the happiest heart in the universe.
You've never been this age before and after some 365 days, you will lose it. So make the most of it now that you have it.
---
You may also like:
Best Wishes for your Father | Happy Birthday, Dad!
Happy 50th Birthday | Original Messages for their Special Day
A Family Affair | Love Quotes for Mom and Dad