Best 30 Merry Christmas Greetings from Our Family to Yours
Christmas is one of the most celebrated festivals globally. Since it happens towards the end of the year, Christmas is the best time to celebrate family and friends. One way to achieve this is to send your loved ones Christmas greetings even if you will not be spending the holiday with them. Saying Merry Christmas from our Family to Yours to your dearest people is a reflection that you cherish them. Heartfelt messages can also make them feel better and put a smile on their face. The following are thoughtful Merry Christmas greetings to send your loved ones.

Merry Christmas from our family to yours. Have a lovely holiday filled with love and laughter.
Best wishes for an amazing Christmas. May love, health, peace and prosperity follow you today and always.
Being your friend has been one of my best highlights this year. Merry Christmas and happy festivities from my family and yours.
Christmas would not be special without you. May this festive season fill your life with love, laughter and happiness.
Take this festival season to enjoy the little things in life. Merry Christmas from our family to yours.
Sending love and warm greetings from our family to yours this Christmas Day and forever.
The time for gathering and celebrating the birth of Christ with your loved ones is here. Our family wishes your family a great holiday!
Be grateful for all the good things you have experienced this year. Have a memorable Christmas holiday around people you love.
May happiness and love find you during this festive season. Have a wonderful celebration.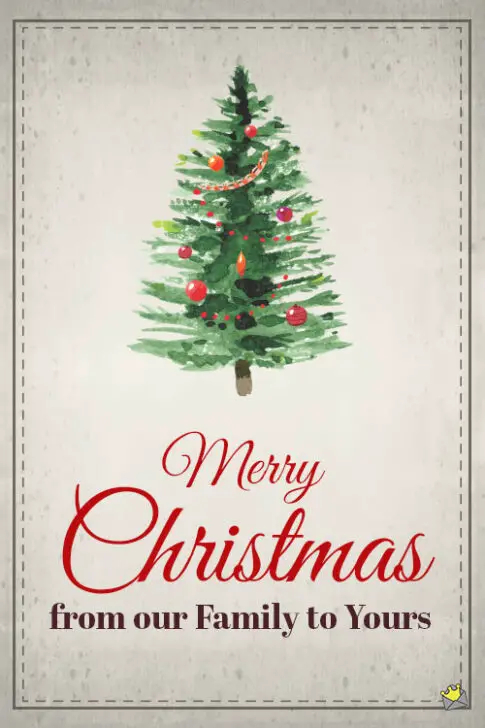 Sending you and your loved ones a wonderful time during this festive season.
Wishing you a wonderful celebration full of thrilling parties, new experiences, unforgettable moments and zero challenges.
May all your dreams come true this Christmas. My family wishes you a lovely day and reminds you to enjoy yourself.
This Christmas, may you and your loved ones have an amazing time punctuated with joy, peace and abundant blessings. Merry Christmas!
Sending you warm Christmas greetings from my parents, siblings and myself. We wish you and your loved ones an epic time.
I hope Santa fills your mail box with money and gifts. Have a good one from my family to yours.
Christmas is the time to enjoy the company of your loved ones. May you and your family have the best Christmas holiday ever.
The gift of good health. The gift of joy. The gift of peace. May all these gifts find you today and always.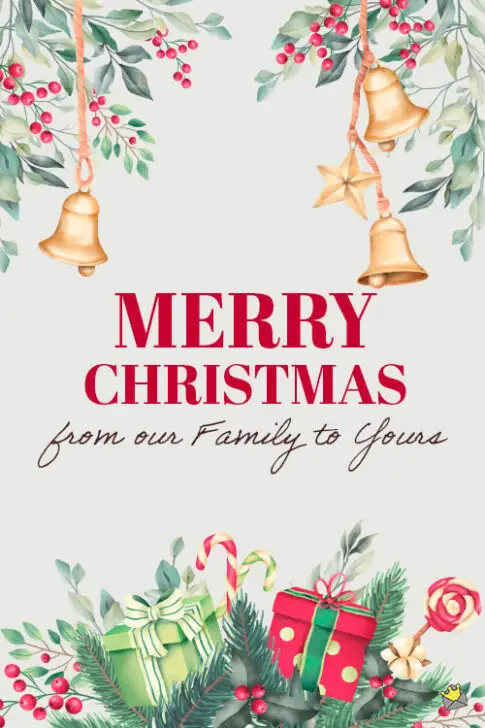 May Christmas magic make all your dreams a reality. Receive warm Christmas greetings from my family.
My family does not take for granted your friendship and support throughout the years. We wish you a wonderful Christmas holiday.
Here is to a beautiful season full of delicious food, tasty drinks, multiple gifts, answered prayers and other great things.
Christmas is the time to splurge all your savings and start afresh next year. My family wishes you and your loved ones a great Christmas holiday.
You know you are getting old when Christmas does not excite you anymore. You and your family deserve to have a beautiful celebration this Christmas.
Our special greetings to you and all the people you adore. May this Christmas be your best!
Sharing a neighborhood with you is a treasure I will forever cherish. Merry Christmas!
This Christmas season, let us take time to celebrate what is truly important in our lives: family. I wish your family a pleasant Christmas festival.
Although we are far apart physically, we are together in our minds and hearts this Christmas season. Have a brilliant time!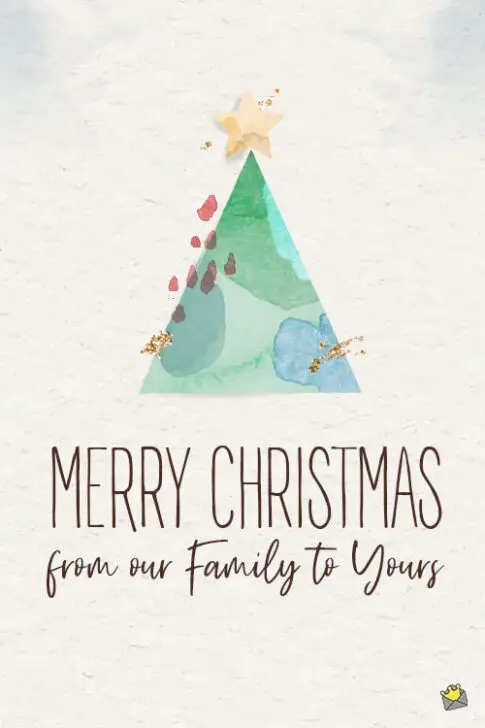 You may also like:
The Season To Be Jolly | 150+ Merry Christmas Wishes
Best 50+ Funny Christmas Quotes for All Things Xmas
Best 50 Christmas Wishes for Coworkers You Care About