Seasonal holidays offer the perfect opportunity to put into words all the thanks, well-wishes, and affection you feel for those important people in your life, including coworkers, family, friends, and bosses. With the daily grind of living and working, we often neglect to say what we assume others know. Christmastime is the perfect occasion to ensure what's in your heart is expressed clearly and proudly.
Of course, we all aren't poets and authors. The sentiments may be difficult to actually put into words, right? That's why we offer this array of greetings and messages that can be sent by paper or electronically this Christmas season.

Christmas Card Messages For Family And Friends
Look through these messages to tell your inner-most circle your thoughts before Christmas arrives.
Dear family and friends, from our home to yours, we wish you all the very merriest of Christmases past, present, and future.
Hope your holidays are complete with endless happiness and tremendous peace. Bless you all for being such a positive force in my life.
May the heavens above shine a multitude of blessings upon my dear family and closest friends this Noel, and may we take a moment to remember those no longer with us.
With faith, all is possible. With love, all can be conquered. With hope, all can be beautiful. May Christmas's reason bless you with all three.
Here's to all the loving and fabulous friendships and family bonds near and dear to my heart. Wishing you all the brightest Christmastime possible.
In the spirit of the Christmas holidays, it must be said that I have been gifted with the best inner circle in existence. Thank you for all you do, and my best wishes for a wide and high YuleTIDE!
Gratitude and pride fill my heart as I pay a holiday tribute to all the beloved people who make my life so full. Have yourselves a magnificent CHRISTmas.
My Christmas prayer is for all the wonders of the season to pour into the homes and lives of those I cherish most – yes, that includes you!
As my brood opens their gifts this year, I do hope that they'll open their hearts to the reason behind the season and allow all the love and joy that they so deserve to nourish their body and soul to sustain the New Year.
May your credit score be as bright as Rudolf's nose and your wallet be as wide as Santa's belt. You'll need every bit to cover our crazy bunch's wish list.
Remember the three key rules to Christmas'y cheer – hold family close, give enemies the wrong address, and keep receipts for all major purchases.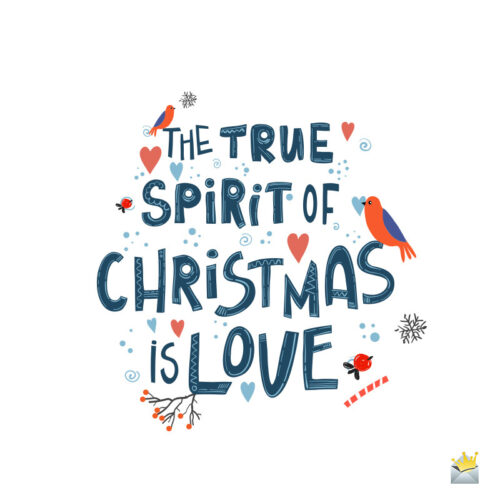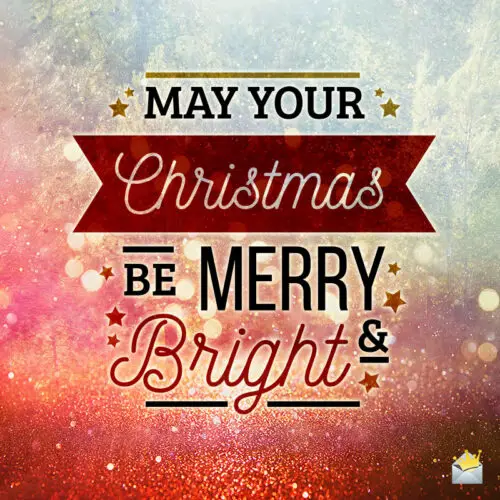 Business Christmas Card Greetings
Need to send a business associate a seasonal greeting to show you've remembered their contribution to your year? Try one of these texts of appreciation.
It's been a productive year of business. May the rewards make your Christmas festivities all the brighter and merrier.
With great gratitude and thanks, we wish you all the best for your family holidays this year.
It's the most befitting time to be thankful for our business relationship and to offer you our warmest regards for an amazing season of holidays.
As the fun festivities of Christmas approach, we raise our glass to another successful business year with you by our side. Your dedication hasn't gone unnoticed or appreciated.
What an amazing 11 months it's been. Here's to your December continuing onward with this remarkable trend!
We can't reflect on this year without recognizing the fabulous business partners who've had a hand in it. Thank you for your dedication, and may you enjoy all the peace and tranquility Christmastime offers.
With business associates like you, everything looks bigger, bolder, and easier for us. Enjoy all your holiday festivities, and we look forward to celebrating the New Year with you.
Wishing all of our business partners, associates, vendors, and clients a happy Noel.
No hugs and hand-delivered treats this year. So, please accept our socially-distanced, germ-free message of best wishes for you as you celebrate the upcoming holidays.
Companionship isn't just a personal relationship as the business moves we make couldn't be accomplished without the steadfast companionship of loyal business partners. We honor you and your family and offer our sincere hope for all to have an excellent Christmas experience.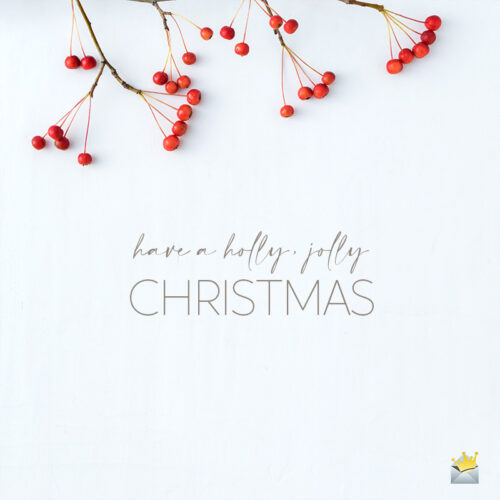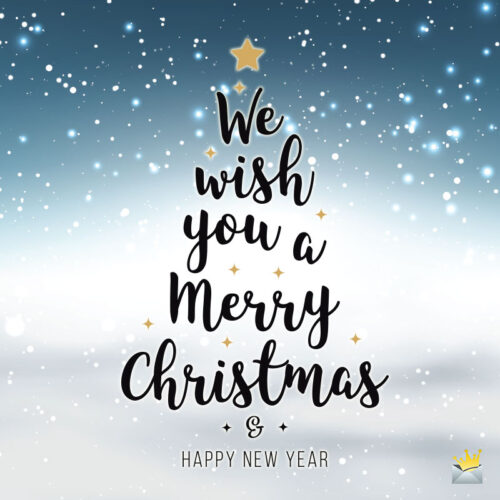 Christmastime Card Messages For Co-Workers
Let your coworkers know that work family is an important part of your life and that you'd never forget to wish them well.
I never knew Christmas was so similar to our job. We keep doing all the work, and some old guy in a suit gets all the credit. Go figure?!?
It's been awesome working beside you this year, and I look forward to all the adventures of the next year. Until then, enjoy our little holiday vacation.
Thanks for making workdays a little less stressful. Hope you and the fam have a fabulous Christmas Day!
Our team shines in all we do because of you. Here's to you pulling off the same magic on Christmas morning.
The Yuletide season has arrived, and we've almost survived another year of the grind. Hurray for us!
While the work spouse, sibling, and parent will celebrate with their own real-life versions, know that my warmest wishes for a very lovely holiday extends from my home to yours.
What a wonderful colleague you've been all year. Thank you for a gift that transcends all the seasons.
May Christmas's wind blow nothing but peace, joy, and good gifts your way. Much appreciation for making our workplace operate smoothly.
Coworkers like you brighten the office everyday. So, I definitely think you deserve a glistening Christmas vacation.
Xmas is a race to see if it's your feet or wallet that give out first. Hey, that sounds a lot like our workplace retirement plan.
May the season of dreams come true and open all of your career opportunity doors. You've worked hard, and I'm excited to watch your continued successes.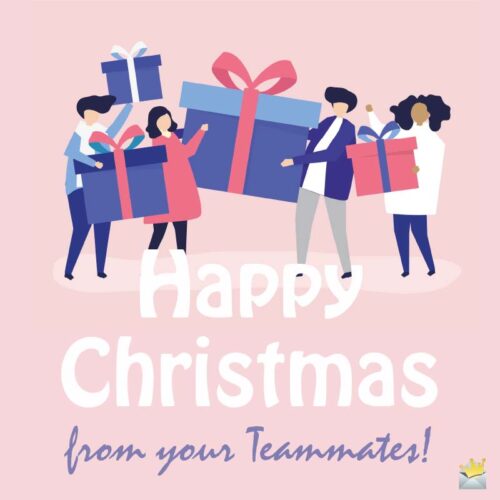 Christmas Card Messages for Boss
Whether you have a friendly or purely professional relationship with your superiors in the workplace, send them your well-wishes for the occasion.
It's a privilege to be mentored by a leader who actually leads the charge. So, what time are you leading the charge for the holiday party with drinks on your tab?
What a pleasant experience it is to follow a boss as we pave our own occupational successes as a team. Here's to your holidays also being paved with great success and many pleasant memories.
Workloads and customers may come and go. Christmases and birthdays only come once a year. But having a leader like you is a once in a lifetime gift.
May this season with a reason bring you great prosperity, health, and continued foresight into leading our team to great things. We couldn't ask for better than you!
Happy and joyous wishes for the one who inspires, motivates, and cultivates our team's successes throughout the year.
All the presents under the tree and all the little extras throughout the year are in large part due to having a workplace that feels like a second home, and you, dear boss, are the glue that built my second home. Thank you, and my best to you and yours.
Occasions like Christmastime are the only time some employees get to see the kindness, generosity, and smiles of their bosses. Thankfully, I get to see all that year-round.
Within this Yuletide season, may you be gifted with all the blessings you need to carry you through the next year keeping us all organized, productive, present, ethical, oriented, not tardy, pleasant, and sane. Good luck.
It's a pleasure working underneath such a force in our industry. Warmest prayers for your holiday to be just as pleasant.
How do I love thee; let me count the ways – payday, Friday, and Christmas-bonus time. Aren't you glad it's almost all three?!?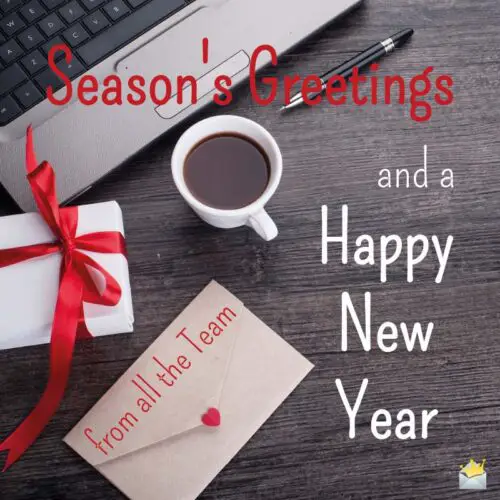 Famous Christmas Card Quotes
Christmas is the day that holds all time together. Alexander Smith
Christmas isn't a season. It's a feeling. Edna Ferber
Christmas now surrounds us, Happiness is everywhere. Our hands are busy with many tasks as carols fill the air. Shirley Sallay
Nothing ever seems too bad, too hard, or too sad when you've got a Christmas tree in the living room. Nora Roberts
What is Christmas? It is tenderness for the past, courage for the present, hope for the future. Agnes M. Pahro
It's not how much we give but how much love we put into giving. Mother Theresa
Then the Grinch thought of something he hadn't before! What if Christmas, he thought, doesn't come from a store. What if Christmas…perhaps…means a little bit more! Dr. Seuss
May you never be too grown up to search the skies on Christmas Eve. Unknown
Christmas is doing a little something extra for someone. Charles M. Schulz
I don't think Christmas is necessarily about things. It's about being good to one another. Carrie Fisher
God bless us, every one! A Christmas Carol
Our hearts grow tender with childhood memories and love of kindred, and we are better throughout the year for having, in spirit, become a child again at Christmastime. Laura Ingalls Wilder
The best way to spread Christmas cheer is singing loud for all to hear. Will Ferrell, Elf
The Christmas spirit is a spirit of giving and forgiving. James Cash Penney
Christmas, my child, is love in action. Dale Evans Rogers
Seeing is believing, but sometimes the most real things in the world are the things we can't see. The Polar Express
Blessed is the season which engages the whole world in a conspiracy of love. Hamilton Wright Mabie
Unless we make Christmas an occasion to share our blessings, all the snow in Alaska won't make it 'white'. Bing Crosby
Christmas will always be as long as we stand heart to heart and hand in hand. Dr. Seuss
I wish we could put up some of the Christmas spirit in jars and open a jar of it every month. Harlan Miller
The world has grown weary through the years, but at Christmas, it is young. Phillips Brooks
At Christmas, all roads lead home. Marjorie Holmes
Christmas waves a magic wand over this world, and behold, everything is softer and more beautiful. Norman Vincent Peale
The main reason Santa is so jolly is because he knows where all the bad girls live. George Carlin
Christmas is a time when everybody wants his past forgotten and his present remembered. Phyllis Diller
Christmas is like candy; it slowly melts in your mouth sweetening every taste bud, making you wish it could last forever. Richelle E. Goodrich
Oh the weather outside is frightful,
But the fire is so delightful,
And since we've no place to go,
Let it snow, let it snow, let it snow.
Let it Snow
I heard the bells on Christmas Day
Their old familiar carols play
And wild and sweet, the words repeat
Of peace on earth, good-will to men.
Henry Wadsworth Longfellow
One of the most glorious messes in the world is the mess created in the living room on Christmas day. Don't clean it up too quickly. Andy Rooney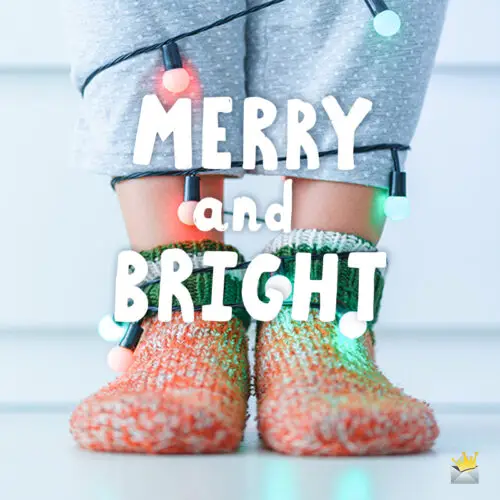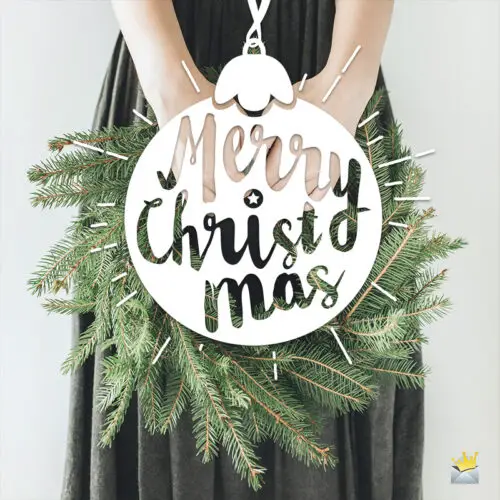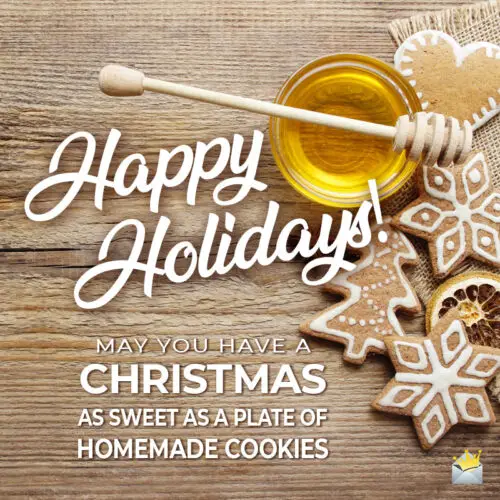 ---
You may also like:
The Season To Be Jolly | 150+ Merry Christmas Wishes
A Celebration to Lift Us Up | Inspirational Christmas Messages
Merry Christmas, Teacher! | Christmas Wishes for Favorite Professors