Best 50+ Funny Christmas Quotes for All Things Xmas
Late December is in the horizon, but, let's face it, if you are one of those who inherently hate Christmas holidays, no one should tell you it's the season to be jolly. For all the rest of the Christmas-spirited population, this list of funny Christmas quotes will get you in the mood.
Share these holiday quotes with your friends and family to spread Christmas joy, or use them as clever Christmas-themed Instagram captions. Have yourself a Merry little Christmas and cherish all things Xmas while it last!
Table of Contents
17 Funny Christmas Quotes
There's no experience quite like cutting your own live Christmas tree out of your neighbor's yard. Dan Florence
There are three stages of man: he believes in Santa Claus; he does not believe in Santa Claus; he is Santa Claus. Bob Phillips
Three phrases that sum up Christmas are: Peace on Earth, Goodwill to Men, and Batteries not Included. Author Unknown
My husband's idea of getting the Christmas spirit is to become Scrooge. Melanie White
Once again, we come to the Holiday Season, a deeply religious time that each of us observes, in his own way, by going to the mall of his choice. Dave Barry
I hate the radio this time of year because they play All I Want For Christmas Is You like, every other song. And that's just not enough. Bridger Winegar
Whenever you give someone a present or sing a holiday song, you're helping Santa Claus. To me, that's what Christmas is all about. Helping Santa Claus! Louis Sachar
What I like about Christmas is that you can make people forget the past with the present. Don Marquis
Adults can take a simple holiday for Children and screw it up. What began as a presentation of simple gifts to delight and surprise children around the Christmas tree has culminated in a woman unwrapping six shrimp forks from her dog, who drew her name. Erma Bombeck
My mother-in-law has come round to our house at Christmas seven years running. This year we're having a change. We're going to let her in. Leslie 'Les' Dawson, Jr.
I haven't taken my Christmas lights down. They look so nice on the pumpkin. Winston Spear
I once bought my kids a set of batteries for Christmas with a note on it saying, 'toys not included.' Bernard Manning
Christmas, here again. Let us raise a loving cup; Peace on earth, goodwill to men, and make them do the washing up. Wendy Cope
The worst gift I was given is when I got out of rehab that Christmas; a bottle of wine. It was delicious. Craig Ferguson
There has been only one Christmas — the rest are anniversaries. W. J. Cameron
Christmas is mostly for children. But we adults can enjoy it too, until the credit card bills arrive. Unknown
Santa Claus wears a Red Suit, He must be a communist. And a beard and long hair, Must be a pacifist. What's in that pipe that he's smoking? Arlo Guthrie
17 Short Funny Christmas Quotes to Use as Captions
Christmas is a baby shower that went totally overboard. Andy Borowitz
Merry Christmas, ya filthy animals! Home Alone 2
There are three stages of man: he believes in Santa Claus; he does not believe in Santa Claus; he is Santa Claus. Bob Phillips
The main reason Santa is so jolly is because he knows where all the bad girls live. George Carlin
Santa Claus has the right idea. Visit people only once a year. Victor Borge
Christmas sweaters are only acceptable as a cry for help. Andy Borowitz
Christmas is a magical time of year… I just watched all my money magically disappear. Unknown
At Christmas, tea is compulsory. Relatives are optional. Robert Godden
Christmas to a child is the first terrible proof that to travel hopefully is better than to arrive. Stephen Fry
The two most joyous times of the year are Christmas morning and the end of school. Alice Cooper
There are always Uncles at Christmas.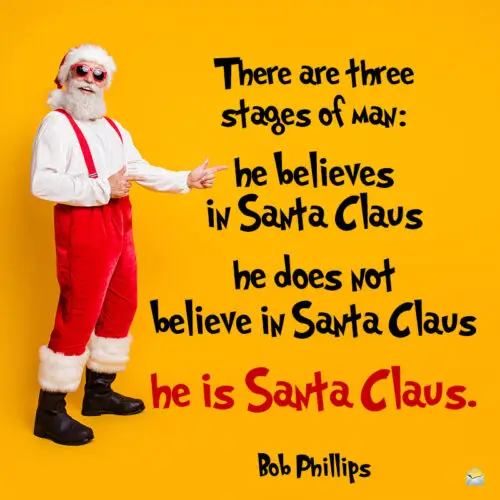 That's the true spirit of Christmas; people being helped by people other than me. Jerry Seinfeld
I once wanted to become an atheist, but I gave up – they have no holidays. Henny Youngman
Its easier to feel a little more spiritual with a couple of bucks in your pocket. Craig Ferguson
I love Christmas. I receive a lot of wonderful presents I can't wait to exchange. Henny Youngman
Nothing's as mean as giving a little child something useful for Christmas. Kin Hubbard
Original Funny Christmas Captions for Instagram
Christmas is actually the biggest birthday party ever. #thanksjesus
Elves asked me to take a Christmas elfie.
Ho-ho-holy night with loved ones. #itendssoon
No need to dream of a White Christmas no more… It's here!
Hey, let's give Mariah a million! Merry Christmas.
Eat, Drink, Be Merry, Be Alicia, Be Whoever You Want.
*acts "nice" when Santa visits. #neverworks
Proudly populating the "naughty" list.
Who did you call a snowflake? Oh, yeah, that's snow.
These ones are like candy canes — sweet and twisted!
Resting Grinch face.
*rockin' the rocking chair by the Christmas tree. #stillrocks
All I want for Christmas is another one.
Calmly waiting for tonight for 364 days.
Playing it indifferent when the Yule log gets on the table.
Somewhere between a December to remember and a debt to forget.
My body is asking for me to spend Christmas as a non-Christian once.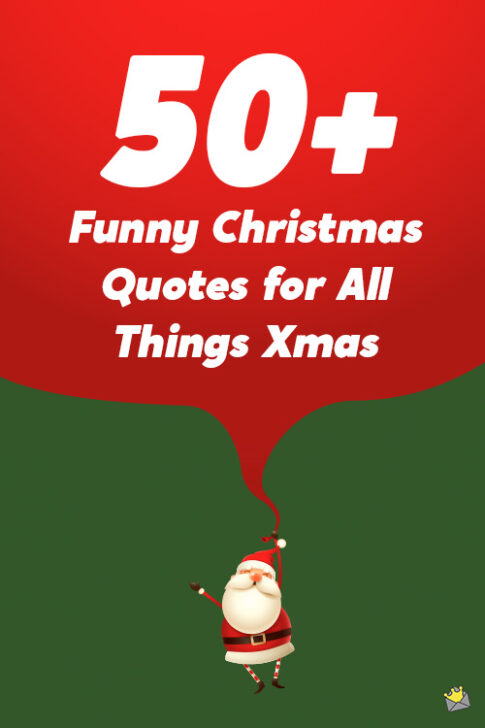 You may also like:
120 Christmas Captions for Instagram to Keep Their Hearts Warm
The Season To Be Jolly | 150+ Merry Christmas Wishes
150 Christmas Quotes for A Special Holiday Season