20 Outstanding Merry Christmas Wishes for Boss
Whether you have a friendly or purely professional relationship with your superiors in the workplace, send them your well-wishes for the occasion.
This collection of festive messages will help you say Merry Christmas to your boss in the best way possible.

Inspiring Christmas Wishes for Boss
What a pleasant experience it is to follow a boss as we pave our own occupational successes as a team. Here's to your holidays also being paved with great success and many pleasant memories.
Workloads and customers may come and go. Christmases and birthdays only come once a year. But having a leader like you is a once in a lifetime gift.
May this season with a reason bring you great prosperity, health, and continued foresight into leading our team to great things. We couldn't ask for better than you!
Happy and joyous wishes for the one who inspires, motivates, and cultivates our team's successes throughout the year.
All the presents under the tree and all the little extras throughout the year are in large part due to having a workplace that feels like a second home, and you, dear boss, are the glue that built my second home. Thank you, and my best to you and yours.
Occasions like Christmastime are the only time some employees get to see the kindness, generosity, and smiles of their bosses. Thankfully, I get to see all that year-round.
Within this Yuletide season, may you be gifted with all the blessings you need to carry you through the next year keeping us all organized, productive, present, ethical, oriented, not tardy, pleasant, and sane. Good luck.
It's a pleasure working underneath such a force in our industry. Warmest prayers for your holiday to be just as pleasant.
Funny Christmas Wishes for Boss
How do I love thee; let me count the ways – payday, Friday, and Christmas-bonus time. Aren't you glad it's almost all three?!?
It's a privilege to be mentored by a leader who actually leads the charge. So, what time are you leading the charge for the holiday party with drinks on your tab?
Our boss is so much better than Santa: S/he shows us the way, keeps us in line, and we don't even have to carry a sleigh on our back!
If you're planning on giving us a Christmas bonus, thank you for your contribution to our prosperity. If not, thank you for your contribution to our diet. We need both!
Santa is the only one we let judge if we've been good or bad – besides you. Merry Christmas from the good kids!
I always say that having someone like you lead the way makes working fun. I'm guessing Santa's elves might be using that same sentence often too, though!
Christmas: if you have holiday bonuses to share, we might even get you reindeer and a sleigh!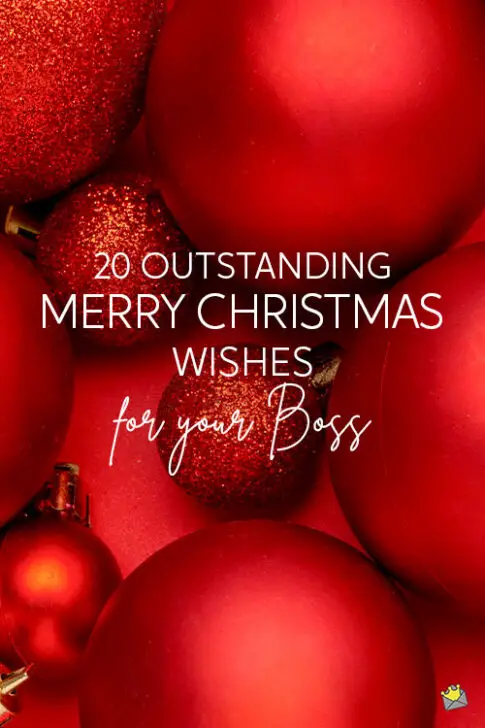 You may also like:
The Season To Be Jolly | 150+ Merry Christmas Wishes
Greatest 100+ Birthday Wishes for your Boss
Best 50+ Funny Christmas Quotes for All Things Xmas
Best 50 Christmas Wishes for Coworkers You Care About
Best 30 Merry Christmas Greetings from your Family to Theirs