Best 20 Merry Christmas Wishes for your Sister
Letting family members know that we love them is undoubtedly one of the best gifts that we can give during the Christmas season. Whether our sisters live nearby or work on the other side of the globe, a lovely Christmas message can be just the thing to let our sisters know that we truly care about and feel close to them. Here are just a few great Christmas messages to help strengthen the bonds of sisterhood this year and make the Christmas season extra special!

Cute Christmas Wishes for Sister
Lighthearted Christmas messages to our favorite family members can really help us to capture the spirit of the season!
Bringing in the Christmas season with the gift of your friendship is always the highlight of my year. Here's to the best Christmas so far!
Dearest Sister: Although we are far apart, I know that my love for you keeps us close in spirit. I wish you wonderful things in the new year and during the Christmas season.
Even during this coldest of seasons, my love for my sister always keeps me warm!
Sweet Sister: Even though Christmas only comes around once per year, I think of you every day! I'll always keep you close to my heart.
The bond that we share has always withstood the greatest challenges. Here's to a fantastic new year and a new chapter in the story of our friendship.
Whether we're sharing a coffee and chatting or taking a walk in fresh-fallen snow, you always make the Christmas season feel even more magical.
Friendship is one of life's great gifts. But friendship and sisterhood combined is the best present that life can offer to us.
Funny Christmas Wishes for Sister
This year, try showing your sister how much she means to you by cracking her up with these funny Christmas messages!
Dearest Sister: Wild reindeer couldn't drag me away from wishing you a Merry Christmas!
Let no Santa tell you if you've been good or bad this year – without asking your sister first!
Sister of mine, your personality is always sweeter than eggnog and always warmer than a Christmas hearth. Thank you for your friendship, follow me for more Christmas messages!
We've all been waiting for a Christmas miracle, sis, but your money disappearing after Christmas shopping doesn't count.
As the Christmas season begins, let the feasting commence! After all, we can always exercise in January. For now, let's break out the eggnog!
Merry Christmas Wishes for Your Sister and Her Spouse
Sometimes our siblings and their families live far away from us, but we can still show them that they are always close to our hearts!
To a sister and her wonderful spouse: You both give me something to aspire to in life and make my world a better place in the process. Thank you for your friendship this Christmas and for your enduring companionship!
As a couple that is extremely dear to my heart, having you both in my life is truly the best Christmas present that I could ever ask for! This Christmas, my biggest wish is for your continued friendship.
To a couple that means the world to me: You both inspire me to be a better person and to meet life's challenges with optimism and grace. Your friendship truly makes the world a special place.
A snowy Christmas season with my favorite couple? Life doesn't get better than that!
If You Like, Pin it!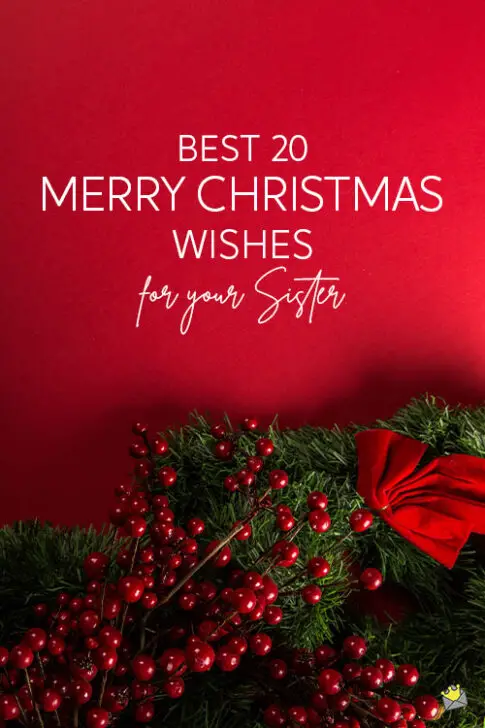 You may also like:
Best 50+ Funny Christmas Quotes for All Things Xmas
150 Christmas Quotes for a Special Holiday Season
Best 30 Merry Christmas Greetings from your Family to Theirs