Best 30+ 18th Birthday Messages for a Friend
You might have grown up together, you might be slightly older or younger. What's certain is, when a friend is turning 18 , it's a big milestone, one that needs to be celebrated in style!
So, if you're looking for the perfect 18th birthday wishes for your friend's special day, look no further. Here are some heartfelt and fun messages you can share:
Table of Contents
Awesome Happy 18th Birthday Wishes for a Friend
Reaching this milestone age deserves the perfect celebration. Your friend is turning 18 so share a great 18th birthday message with them!
Congrats on becoming legal now. You are officially legit. Happy Birthday!
Congratulations on reaching adulthood. Happy 18th Birthday to you.
This is one celebration I could not miss. Congratulations on your 18th birthday!
Make this a night to remember! After all, you only get one 18th birthday!
I'm so happy to be here to witness you cross over into adulthood. I'm so proud of you! Happy Birthday!
My friend, say "Goodbye" to childhood and "Hello!" to adulthood. I'm so glad to grow with you and I hope to be here for you always. Happy Birthday!
This day, right here, marks a turning point in your life. You are no longer a kid; you are someone who is entering the real world. But let's not worry about it yet. Today is a day you will remember throughout your life, so make it special. Wish you a very happy 18th birthday. Party hard!
Welcome to the world of adults. It is filled with lazy, confused people who cannot fathom why everything is so crazy. It is strange, rough and sometimes absolutely unpleasant. So I can safely say, you will fit just right in. Happy 18th birthday, bro.
Hey there. You turned 18 today. You know what it means? All that stuff you have been doing illegally for so many years, you can do them legally now. Enjoy your special day, brother.
In the crazy world of adults, you became the latest addition today. You might want to be like so many peoples. My advice? Be what you are. Adults like us can definitely learn from someone as great as you
You became a woman when you turned 12. Today, you are officially the part of womanhood. You will soon realize how great it is to be a lady instead of a girl. I know you will be a strong and great woman. Wishing you a very happy birthday.
It is a great day, and not just because you get to vote now. From a boy, you have turned into a man. If you feel nervous or scared, you won't be the first one. But in time, you are going to love this feeling. A very happy 18th birthday to you, dear.
This day marks the beginning of making your own decisions. It is one of the hardest things t do, but you have also been one of the best persons I ever met. Life is messy, but I trust you to make the right decisions.
Also check out: Adulthood at the Gates | Happy 18th Birthday Wishes!
Funny 18th Birthday Wishes for a Friend
Seriously? Taking the serious way is fine, but a joke will always work better on someone you know well. When a friend is turning 18, it's a great opportunity to crack goofy jokes and make memorable memories. Here are some funny 18th birthday wishes:
1. Happy 18th birthday! In the adult world, you will soon find out that being grown-up isn't all it's cracked up to be.
2. Enjoy your last day of freedom! You'll never get away with goofing off ever again once you hit adulthood.
3. Well look at you, already an adult on paper! Congrats and happy 18th birthday.
4. Finally, the legal drinking age has become something not to worry about anymore. Cheers and Happy 18th Birthday!
5. Welcome to the real world, kid. Now you can join us old fogies in complaining about how much better life was when we were young.
6. Make sure to enjoy your teenage years today because tomorrow, everything changes! Happy 18th birthday.
7. Happy Birthday, welcome to the club of adulthood. You won't realize it until you're in it, but trust us it sucks!
8. You made it to your 18th birthday! Now that you're an adult, go out and do something irresponsible just for once.
9. Welcome to the real world where we are all one year away from being too old for anything fun. Best wishes on your 18th birthday!
10. Congrats on becoming a fully grown up (on paper at least). Enjoy your last night being able to stay out as late as you want without getting grounded! Happy 18th birthday!
11. Your 18th birthday is a day of freedom and excitement. Enjoy it while you can, because in a few years you'll be too old for anything interesting.
Touching 18th Birthday Messages to a Best Friend
They're your Fam, they're the ones you trust your thoughts and secrets with. Your best friend deserves a heartfelt 18th birthday wish that will stay in their heart for years to come. Here are some touching 18th birthday messages:
1. Happy 18th birthday to my best friend! I'm so grateful our life paths have crossed and proud of the amazing person you've become.
2. On your 18th birthday, I want to remind you how much of an incredible human being you are. You have such a bright future ahead of you and I can't wait to see what it holds!
3. Wishing my dearest friend a very happy 18th birthday! May this day bring with it lots of joy, happiness, laughter and good luck for the coming years!
4. Congratulations on turning 18—you officially have permission to do adult things now but don't forget who was your first best friend!
5. Happy 18th birthday to my amazing friend, who I've had the pleasure of growing up with! Here's to all the wonderful memories we have shared and will continue to share in the future.
6. On your special day, may you be surrounded by everything that makes you happiest in life—love, laughter and good company. Wishing you a very happy 18th birthday!
7. May this new chapter of adulthood bring with it immense joy and success for you! Happy 18th Birthday my dearest friend.
8. You're now on your own path so make sure you follow your dreams and never forget where home is! Wishing you a very happy 18th birthday!
9. Here's to the beginning of an exciting adulthood for you. May your 18th birthday be as amazing and wonderful as you are, my best friend!
10. I am so proud of the person that you have become—you're smart, kind and talented. Wishing you a special day on this milestone, happy 18th birthday!
Also read: 99 Funny Birthday Wishes for my Best Friend
Pin it to save it for later!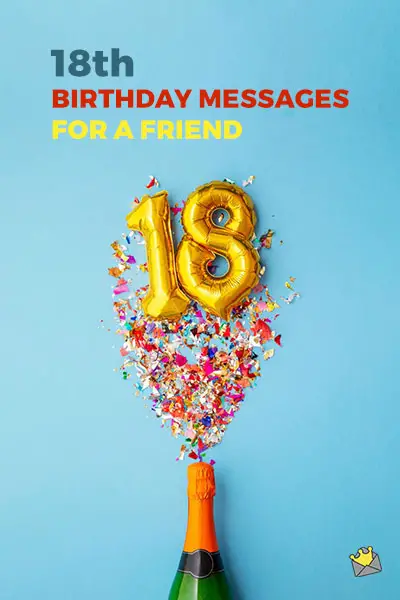 You may also like:
150+ Original Birthday Messages for Friends and Loved Ones
250 Funny Birthday Wishes that Will Make Them All Smile
Friends For Life : 80 Birthday Wishes for My Best Friend