Friends For Life : 80 Birthday Wishes for My Best Friend
Birthdays present us with amazing opportunities to show our friends that we love and care deeply about them – always remembering not to judge them, but to accept them as they are now instead.
That is why it's important to pen birthday wishes that highlight the very characteristics of our friends that make them unique. Here are some great samples to get you started. All the best.

Table of Contents
Happy Birthday Wishes for my Best Friend
Having picked a person to always be a friendly companion is a truly beautiful.
Happy Birthday to my best friend! Hoping for thousands of birthday blessing will shower you on this day.
My bestie is the best. You see all of my flaws yet you love me anyway. Happy Birthday to you!
I'm wishing you warm birthday wishes, my best friend. I've seen many faces come and go but your presence never fades even when it gets rough. Thank you for always being there.
We are two of a kind. No better match. My best friend is the best! Happy Birthday!
We've had so many laughs and tears together through the years. Looking forward to many, many more to come with you, my best friend. Happy Birthday.
Birthday celebrations are meant to be shared with friends. I wouldn't miss this special day for anything in the world. Happy Birthday from your bestie.
Despite what you may believe, you can only have one best friend…ME! The rest are sub-par. Happy Birthday!
Birthday Messages for my Best Friend
When you are looking for a smart message for a cool person.
A very happy birthday to this cool and fancy dude whose knack for great wines and good food remains unparalleled. Have a blast, and may good food and drink always rule in your favor. Cheers.
Happy birthday, dude! Your brightly colored wardrobe makes you look cooler, flyer, and more endearing to the ladies than Kanye West. Keep on being cool. Much love.
It's hard to believe that at your age, you can still be cool, calm and easy going. We will always remember this awesome side of you. Happy birthday, and have a blast!
Sometimes I wonder whether you age forward or backwards. You are way too cool for your age. Wishing you the happiest and coolest of birthdays. Stay blessed.
Without question, you're one of the coolest dudes in my life. May your birthday celebration be as tremendously cool as you.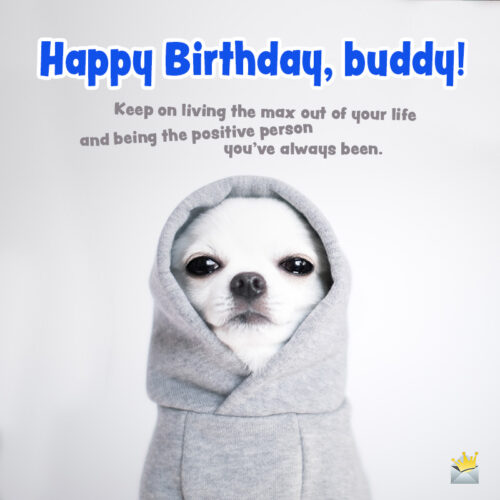 Also see: 99 Funny Birthday Wishes for my Best Friend
Clever Happy Birthday Quotes for that Smart Best Friend
When it's the special day of that ambitious type or a wanna-be scientist, some birthday wishes for the geek we all love will be helpful.
Wishing you a "HPPY B Dy", where H is hydrogen; P, phosphorus; Y, Yttrium; B Boron; and Dy, Dysprosium. Please, also know that you are as rare as Yttrium (a rare-earth element). I'm glad to be your friend. Cheers!
Happy birthday to the ultimate geek on this campus! Please, go to your desktop and open the topmost folder for a birthday file. Sending you much love. Cheers!
If you were to star in "Guardians of the Galaxy", you would be Groot for all the right reasons, including putting the interest of others first. Happy birthday, buddy. The team and I love you!
Today in particular, may you find exceptional clarity and insight from the numerous books that crowd your tables, walls, and shelves. Also, many thanks for teaching me the power of great books. Happy birthday, buddy! Cheers.
Happiest of birthdays to you, my friend! May your discoveries in the lab go viral and transform this chaotic world into a more orderly and beautiful place. Have an incredibly special day. Much love.
Sometimes in life, we need a amazingly crazy friend to help us forget about all our worries and troubles. And that friend is you. Wishing you a very happy birthday!
As the years go by, we become more like sisters and less like besties. Happy Birthday!
Happy birthday, dear friend. May you continue to be the Venus in my sky that guides my steps to the path of happiness. Love.
Let the both of us pretend that today is just an ordinary day so that we do not do any crazy stuff to the excess lol. I wish you a truly blessed and lovely birthday that is just as crazy as yourself. Enjoy!
Tonight is going to be a hot and crazy party because a very special someone was born today. The team and I can't wait to spoil you when the time comes. Wishing you a very happy birthday.
You are as beautiful as a butterfly, as powerful yet calm as a bear, and as intelligent as Hypatia! I wish you a wonderful and happy birthday, and may you grow from grace to grace. Much love.
Beautiful and good is a powerful and rare combination! But you possess both and use them to help others. I feel so blessed to be your friend. Long may you live, dear friend. Happy birthday.
My dear, your kindness and selflessness is endearing and your smile, contagious. Continue to set the pace for others to follow. Sending you an ocean full of love as you commemorate your birthday.
Birthday Paragraph for my Best Friend
If you want to show your best friend how much they mean to you on their special day, consider sending them one of these nice heartfelt paragraphs:
May your coolness factor be met with adventure, luck, and joy so that you can make the most out of this life. I'm happy and proud to call you my friend. Have a very fun-filled and absolutely sweet birthday.
Happy birthday to my amazing friend who makes my world incredibly rich! You've always been the one who sets good examples for others to follow. I'm so delighted you and I ended up being great friends.
Life's a roller coaster ride. Regardless of where it takes us, we will always have a true friendship and a bond that can never be severed. I couldn't imagine the thrill without my amazing friend by my side. Shine bright like a star on your birthday, friend. Enjoy this day, as it is your big one.
Another year older and wiser. Through the last year, you have taught me so much wisdom. I can't wait to see what this year has in store for you, what you learn, and how much you grow. Best wishes.
As you blow each candle off your cake, I hope you stop to realize what that symbolizes. Each flame symbolizes the positive impact you've had on me that year. I value your friendship not just today but every day. I hope all your wishes come true.
As you open your presents and eat your cake, stop to look around. See how many people have stopped to wish you well on your special day. See how many people want to celebrate with you. See the nice words written in cards. You mean so much to so many people and we all just want you to know that — today and every day.
I hope you smile often today as you remember what today truly means. On this day, you graced the world with your presence. Since then, you've made your mark. You've made so many people laugh, smile, and have a better life. Keep it up because this world is a better place with you in it. And today, we get to celebrate you.
You are truly a beautiful soul. I hope you accept that today is a day when we all want to pamper you. Sit back, relax, and let us fill your day with love. This is a day when we get to show our gratitude that someone as wonderful as you was brought into this world.
I hope your birthday is just as beautiful as you. You are a light to so many people and today, may the candles light your day. Wishing you nothing but happiness this year.
Touching Birthday Quotes for your Best Friend
Sometimes we really need to go down the sentimental highway.
A happy birthday to a person that definitely deserves a lot more than this birthday wish of mine!
Have fun, stay safe & take care of yourself, always. Happy Birthday, my friend.
Not a single day has touched you inside. So proud to be your best friend.
May the future bring you the fulfillment of even more dreams, but right now I'd say the past has treated you well.
We've been through so many happy moments together that I might even take your happiness for granted.
I'm glad you're still my friend after all this time. Happy Birthday!
It seems that all that we've been through has toughened us, but has also kept our friendship intact. Happy Birthday, man!
Sharing my joys & struggling in tougher times with you has been a real pleasure. Happy Birthday, my friend!
In good times and bad times, you've been a real friend. Thanks for being here & take care.
If we skip the "Happy Birthday" stuff, we are going to have even more time for beer! 😉
Happy Birthday, buddy! Keep on living the max out of your life and being the positive person you've always been.
May you live forever, because we're the lucky people that enjoy life with you.
For main course, I wish you joy, positivity, creativity & love. The rest are optional side dishes. Happy Birthday, my friend!
With friends like you, I still have chances in conquering the world! Happy Birthday, man, it's been a crazy ride!
I went to my friend's birthday party & all I got him was this lousy greeting text!
Wishing you a breath-taking & fabulous birthday! Have fun, stay cool!
Birthdays come and go, but friends stay with you! However, now that the day is here, make sure you enjoy it!
The meaning of friendship lies in the simultaneous flow of alcohol in our veins. Happy Tipsy Birthday!
For a youngster of your three decades, you've accomplished a lot. Happy Birthday, buddy!
Start counting the years only when you really can't remember the number.
We've never been "traditional" friends, so I don't usually say typical things, but in this case "Happy Birthday!"
A friend accepts you for what you are & I have to thank you for doing it with me. Happy Birthday, my friend!
Age may be something that worries you only when you don't have friends like us!
Birthday Poems for Best Friends
When it's your best friend's birthday, you'll want to make them feel special. Poems are heartfelt ways to do just that:
I hope another year older doesn't make you another year colder.
Pack your suitcase and get on a flight.
Take a trip somewhere sunny and bright.
You deserve happiness because you're the best.
Now, I hope your special day is full of relaxation and rest.
The day is finally here.
The one you've been dreading the entire year.
As the wrinkles deepen and grays fill your head.
You may want to grumble and not get out of bed.
But it's time to get up and start your special day.
Everybody ages and that's okay!
Age is just a number and time keeps on moving.
But you're still hip and cool, so you must keep on grooving.
Eat all the cake and dance the night away.
Before tomorrow comes and it's just another day.
Blow out the candles and chug a beer.
The day you've been waiting for all year is here!
Rock a new outfit and dance on a bar.
Do what you want because you've made it far.
Don't let anyone rain on your parade.
Hold on to these birthday memories because eventually they'll fade.
Getting a birthday wish means you survived another year.
I hope you've learned a lot and nothing was done out of fear.
As you turn the corner and start this new age.
Make it count until the very last page.
Make new memories and learn a new skill.
But before you do all that, take today to chill.
Because this is your day and it's all about you!
So hip hip hooray and kick those birthday blues!
Birthday Captions for Your Best Friend
Your bestie is special and your want to let them know how much you care.
No matter what happens, I can count on you. Happiest of Birthdays!
I am so lucky to have you for my best friend. I can't wait to wish you many more Happy Birthdays! Love you.
When I look up best friend in the dictionary, your picture is there! Enjoy your special day, good friend!
Everyone envies our friendship! Congratulations on your special day!
When people talk about someone having the best of both worlds, they mean you. Your sweet nature and inner strength make a dynamite package. Happy Birthday!
We share just about everything including a love for wine and yoga. I am lucky you are my friend. Happy a great birthday, girl!
To the friend that listens to the late-night sob sessions. Love you, girl. Happy Birthday!
No one has a better friend. You are there for me no matter what. Enjoy your special day!
Happy Birthday Images for Best Friends
Also see: "Happy Birthday, Best Friend" Memes
You may also like:
Best 100+ Birthday Wishes for a Friend
150 Original Birthday Messages for Friends and Loved Ones
250 Funny Birthday Wishes that Will Make Them All Smile